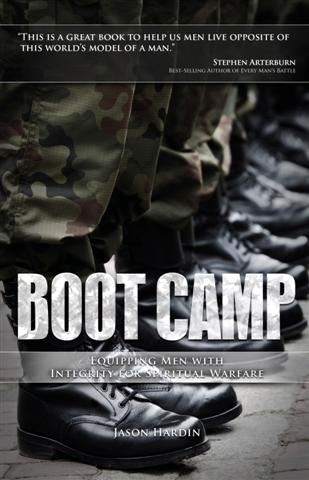 This is a great book to help us men live opposite of this world's model of a man.
— Stephen Arterburn
Best-selling writer
Author of Every Man's Battle
---
Jason focuses like a laser beam on a theme that has been the defining passion of my own life for some years now. Writing particularly, but not exclusively, for men, he urges us to lift our vision to the extraordinary things that God can make possible in us through His Son, Jesus Christ. Our problem is not that we desire too much but that we settle for so little. As a man, I was stirred deeply by this triumphant call to arms. Jason has that unique combination of spiritual insight, emotional maturity, and literary zest that make a writer's work special. Boot Camp is a must-read! I will be impatient for the remaining volumes in the series!
— Gary Henry
Author of Diligently Seeking God & Reaching Forward
---
Hardin's first installment is an excellent explanation of what hinders most of us from being the men we imagine and God envisioned. This book exposes our chief struggles and encourages us to overcome by God's strength and armor. It's an outstanding start for a journey toward biblical manhood. I'm a better man because of Boot Camp; you will be too. I can't wait for the journey to continue.
— Edwin Crozier
Author of Plugged In: High Voltage Prayer
---
In 1966, I went through Army Boot Camp at Fort Benning, Georgia. It was exhausting, agonizing and sobering, but you couldn't become a soldier without this preparation. In Boot Camp: Equipping Men with Integrity for Spiritual Warfare, Jason Hardin brings into print valuable spiritual training for men.
The military allegory is consistently used to convey the value of godly integrity. The relevant issues of debt, pornography, leadership and family responsibility are tackled directly from the text of Scripture. You visit the battlefield of David and Goliath, sit in the classroom of Joseph and discover new places like Currahee.
Men are invited to listen to and trust God, to "rediscover the divine inscription, to press it onto our hearts, and to unashamedly bear the image of our Father, to his glory." This strikes at the heart of one of the great needs of our time—the development of godly men.
I like the specification of Jason's work. This is much more than just saying, "men should be good and not bad." Boot Camp uses Scripture to define "good" and "bad" in practical detail. There are specific chapters on selfishness, sexual immorality, idolatry, jealousy, anger, sins of the tongue and hypocrisy. In his study of Ephesians 6, Jason helps men put on their armor and learn how the equipment works to defend personal integrity and defeat enemy assaults.
Get this book for your teenage boys. Give this to young husbands. Conduct a class for men and generate healthy discussion about being "real men." Men—of whatever age—who are seeking integrity, discipline and hope should read this book, study it, and teach it.
— Warren Berkley
Editor of The Expository Files
---
Jason expands the Biblical imagery of the spiritual war between the forces of good and evil and describes the beginning of the Christian walk in terms of joining an army and experiencing "boot camp." This "boot camp" involves understanding the conflict, recognizing the sins that hinder us in the conflict, and the way in which God arms (prepares) us for the conflict.
Boot Camp is a great book that challenges men to greater faithfulness and integrity in their walk with God. It would work quite well as a book to use in a men's study, and a great means by which a small group of men could challenge themselves to lives of greater and more accountable integrity.
— Ethan Longhenry
Author of Churches of the New Testament
---
There are a lot of good things I could say about this book, but for the sake of brevity, let me praise one aspect that I found truly remarkable—it's versatility. This is a very versatile book. By that I mean that you could approach it or use it in a lot of different ways. For the person who likes to just sit down and read, Jason's writing style is engaging and will keep you interested. For the diligent student who combs every word, this book will serve as a resource on issues of integrity that you will come back to time and time again. This book can be used for group studies or your own personal growth. In fact, I think women would like this book as well.
However you choose to use Boot Camp, I'm convinced it will benefit you greatly.
— James Canada
---
Boot Camp is a wonderful contribution to the effort of challenging men (males particularly, but people generally) to be all that God envisioned us to be. It is absolutely the best book I have read in this particular area of Men's books. Jason's insight into, and application of the scriptures and stories is outstanding. I read it cover-to-cover over the weekend, and will now begin taking it slowly, chapter by chapter (one chapter per week) beginning today. I am happy to have another book to recommend to others and to give out as gifts.
— Jerry Vinson
---
Our society is so saturated with inappropriate sexual material and immorality that it is a challenge for any man to have spiritual integrity. Boot Camp not only tells us what to do to have spiritual integrity, but how to do it. The insight on the pages of this book is remarkable and encouraging. The godly perspective from which Jason writes is unique in our humanistic society, and is much needed. It really is a must read for all men! Think I'm kidding? Buy it, read it, and you too will benefit from it.
— Keith Welch