Archives For ESV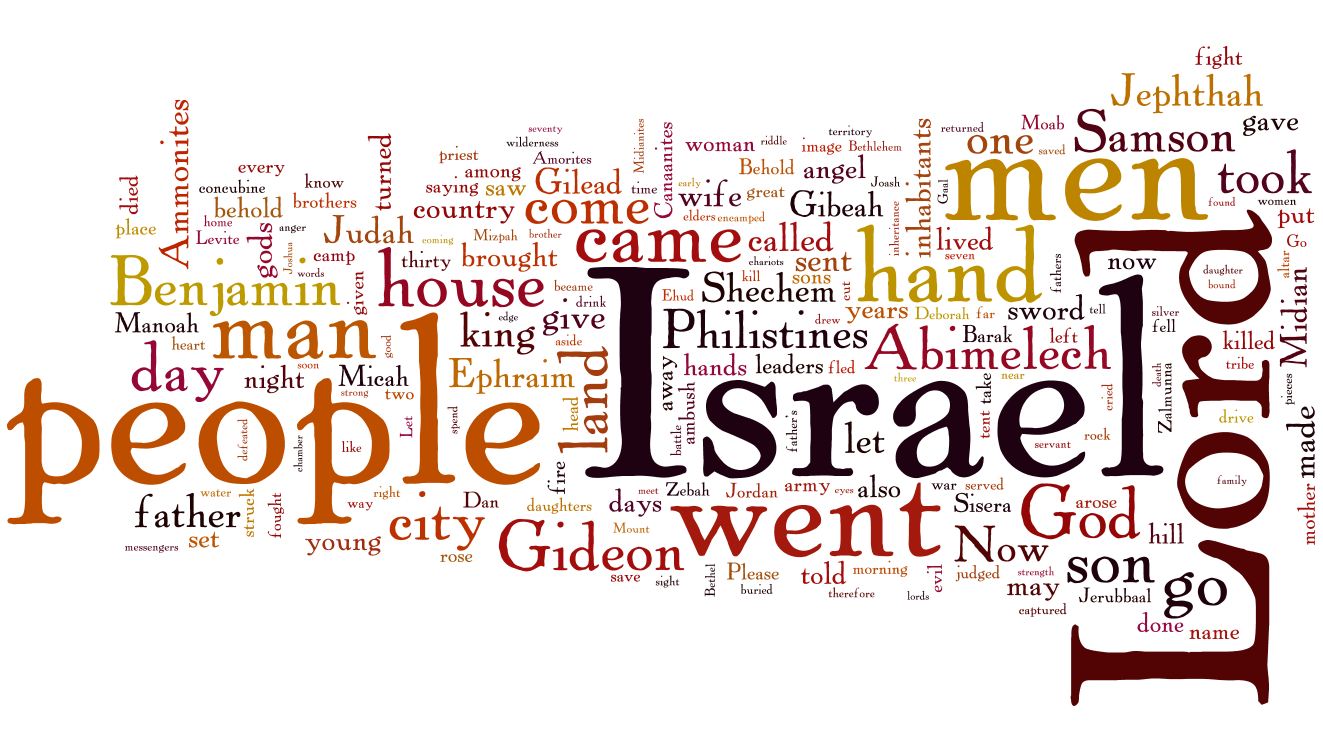 (Judges [ESV]  via Wordle)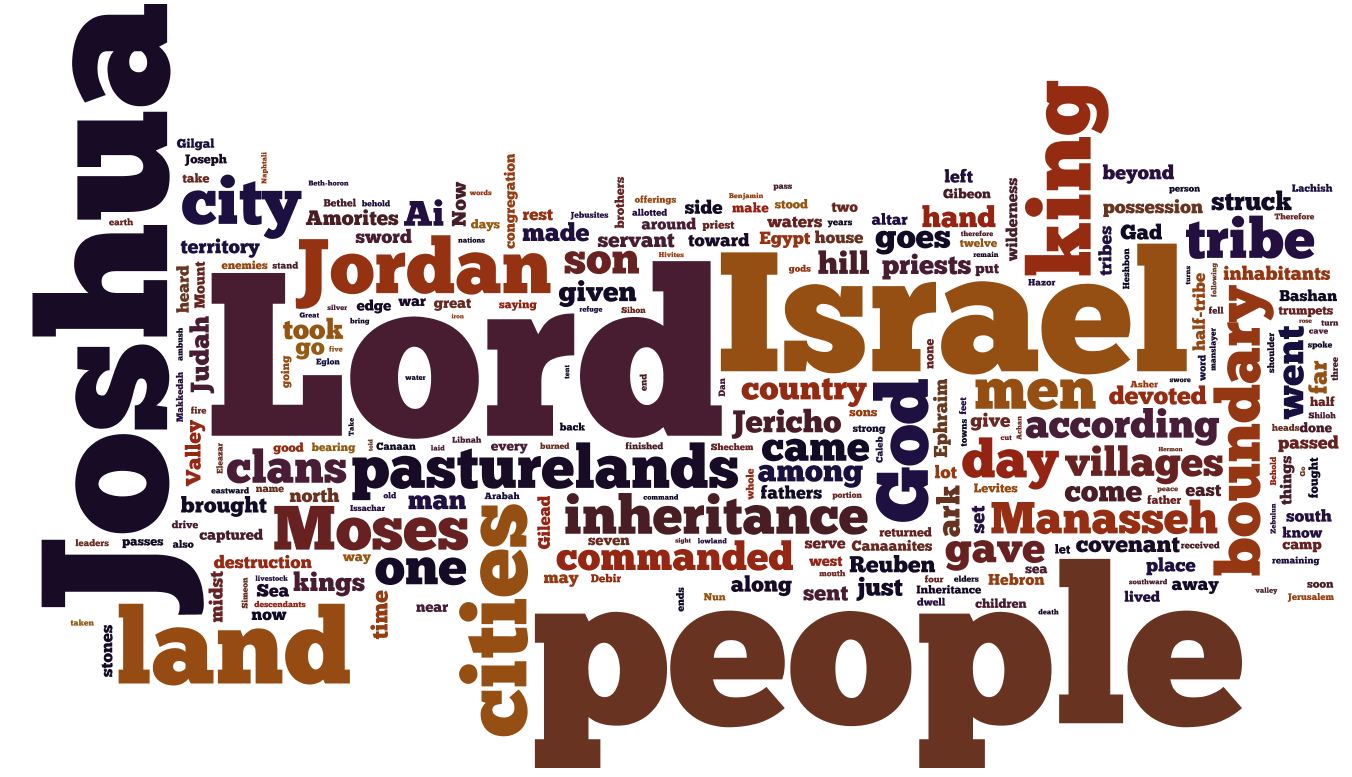 (Joshua [ESV]  via Wordle)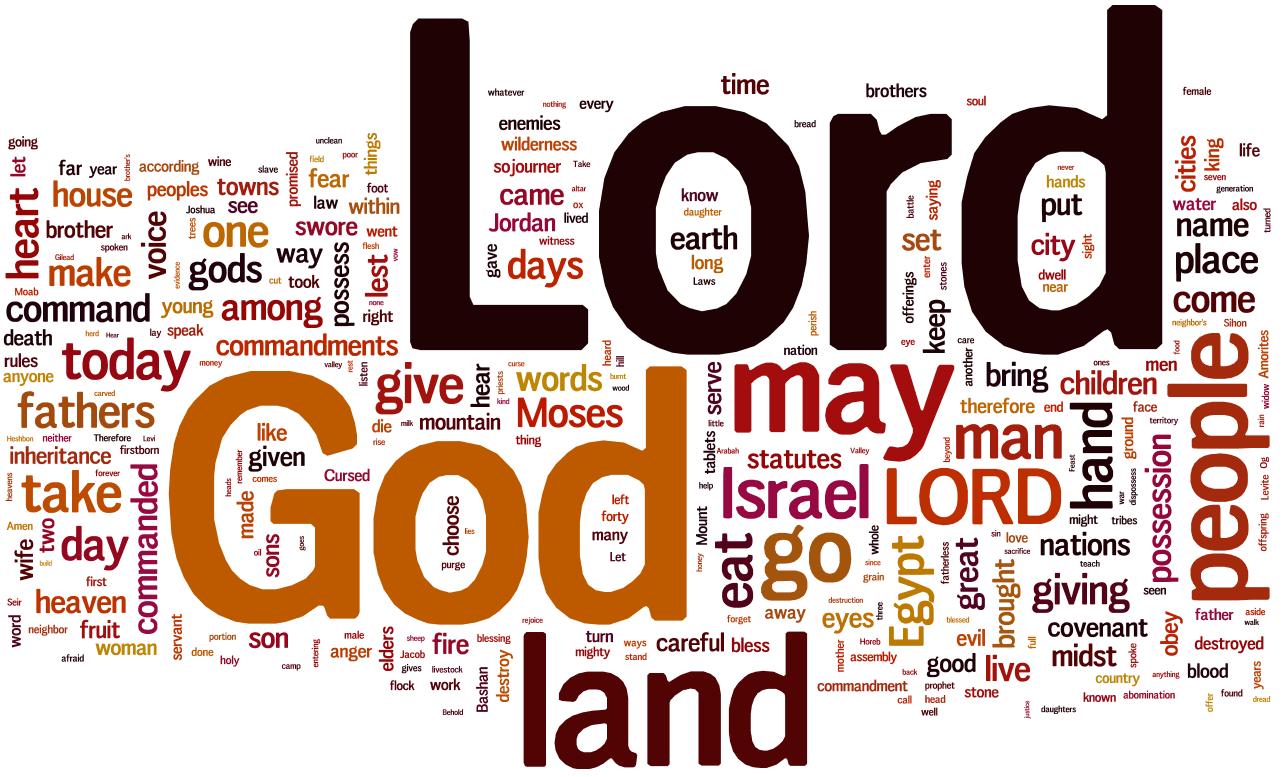 (Deuteronomy [ESV]  via Wordle)
The Bible has never been easier to access.  Consider this post from Crossway, the publishers of the English Standard Version of the Scriptures: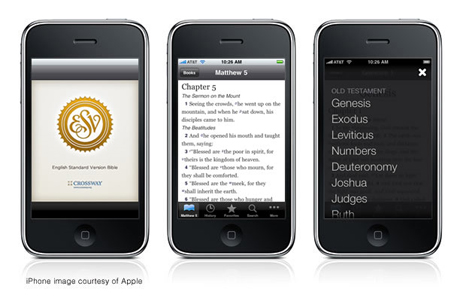 At Crossway, we have the highest regard for Scripture.  Our passion to reach people with the gospel and the truth of God's Word is the driving force behind everything that we do.  Including our use of technology.
When we released the  English Standard Version of the Bible in 2001, we immediately made it available  online, for free.  Eager to get the Bible into as many formats as people will read, we've released the ESV as an iPhone/iPad app,  Android app, and as an  eBook for your Kindle or Nook.
Prefer to listen to Scripture?   You can stream it at  ESV Online.  We've worked with our friends at  Faith Comes By Hearing to offer several audio versions of the Bible, for free.  Another set of audio files is available on  YouTube.
For our technologically savvy friends, we've even made the  API to our ESV Bible text and ESV audio available free of charge for non-commercial use.
Why make this content available for free digitally?  Because the Lord has been generous to us by entrusting his Word to us, which is able to make us wise for salvation through faith in Jesus (2 Timothy 3:15).  As we are able to by God's grace, we want to make it easier for people worldwide to access this inexhaustible treasure.
The barrier is low; you're but a few clicks away from being able to engage the very word of God.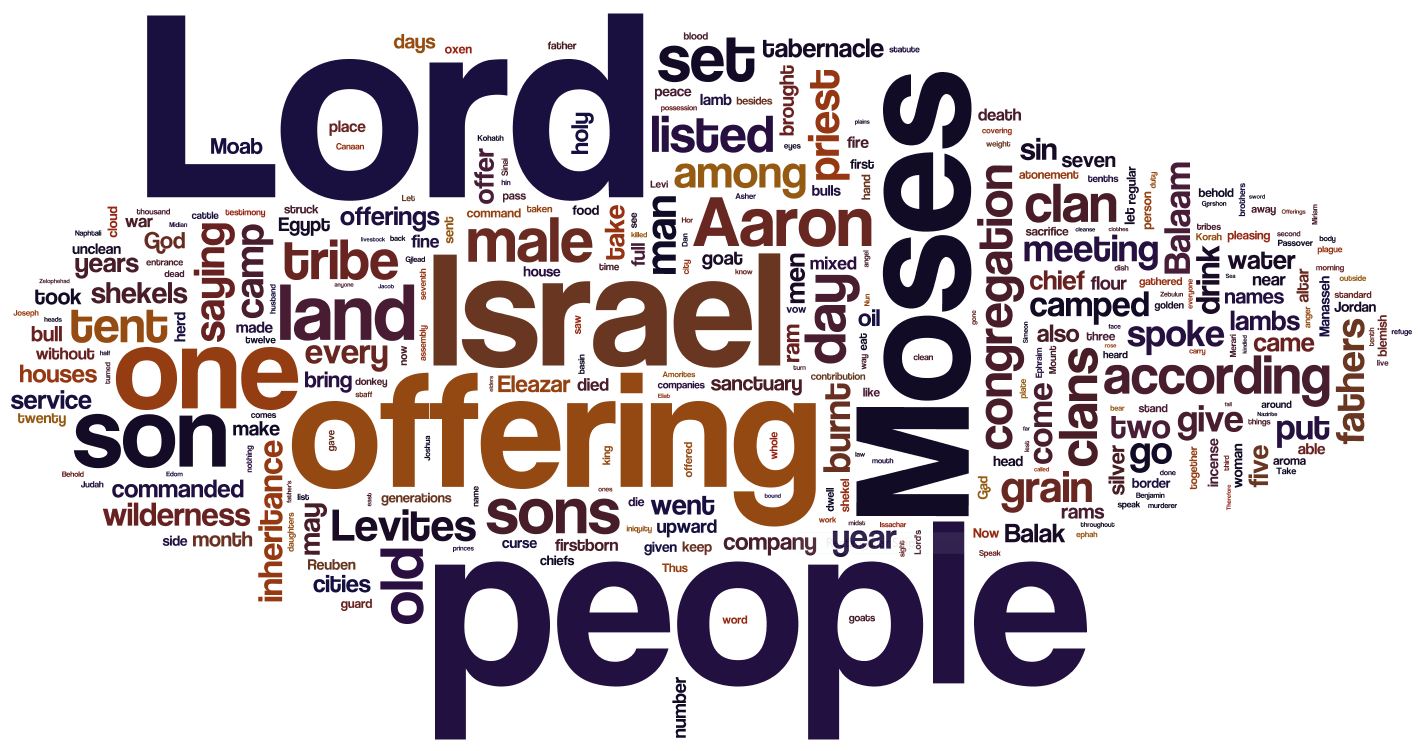 (Numbers [ESV]  via Wordle)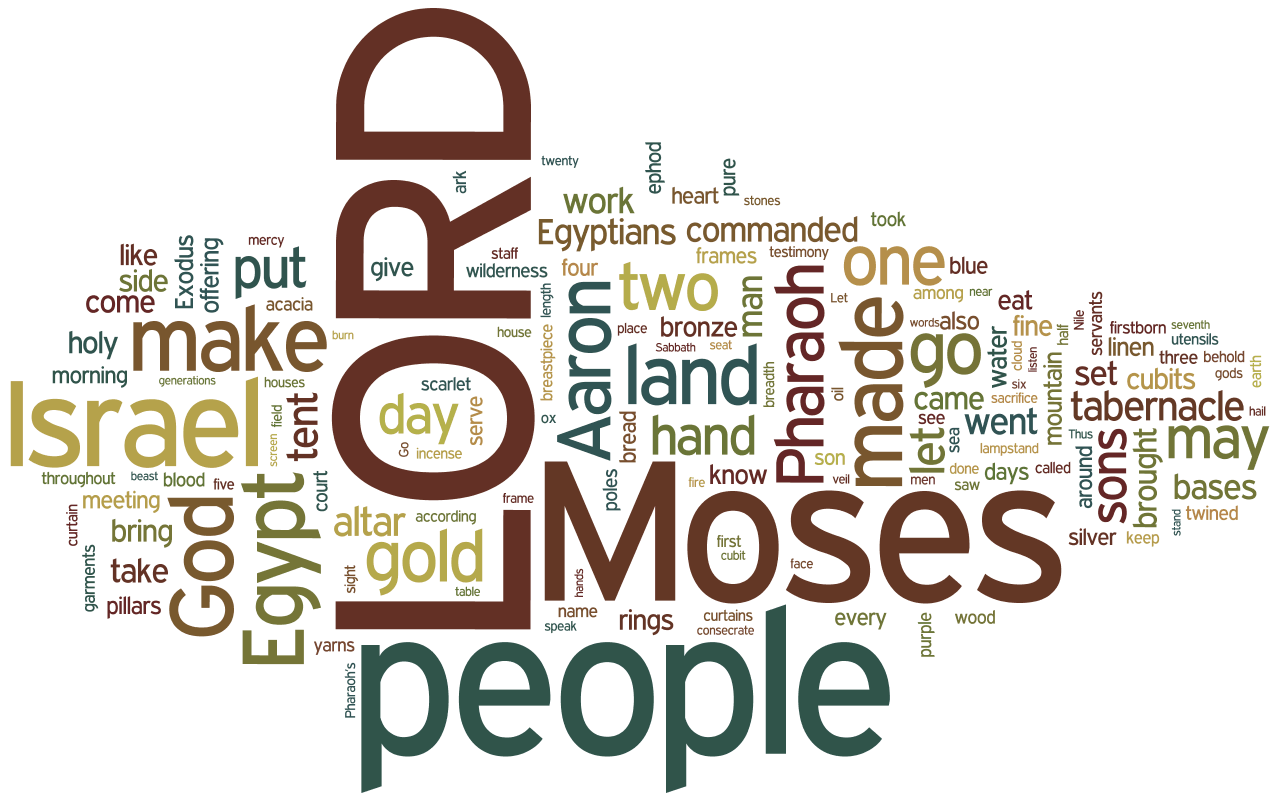 (Exodus [ESV]  via Wordle)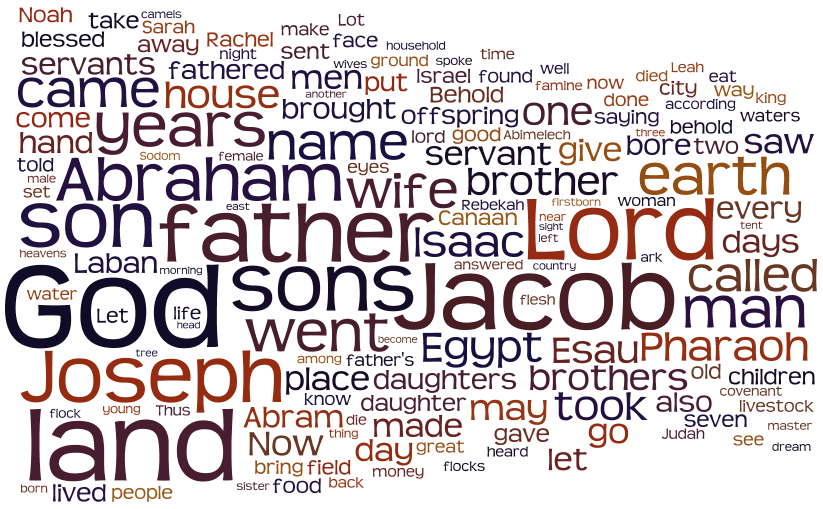 (Genesis [ESV]  via Wordle)
For several years UCLA's Urban Simulation Team has been working on a virtual reconstruction of Jerusalem and the Temple Mount prior to the destruction of A.D. 70.   In collaboration with the Israel Antiquities Authority, they have put together a display at the Ethan and Marla Davidson Exhibition and Virtual Reconstruction Center in Jerusalem.
Below is a video clip—the model was created by Dr. Lisa M. Synder—showing what the Temple Mount and Herod's Temple would have looked like in the time of Jesus.
A couple of notes on what to look for:
The video approaches the Temple Mount from the southwest, giving a good feel for what the houses of the common citizens of Jerusalem would typically look like.
In the second scene are Robinson's Arch and Wilson's Arch—access points from the community dwelling places into the Temple complex.
The third scene is recreated from within the Royal Stoa, or the colonnade of Solomon (John 10:23; Acts 3:11).
The fourth scene is from within the Temple complex, looking at the Temple itself from the Court of the Gentiles.
You might also find these diagrams helpful from the ESV Study Bible
. (click to enlarge)
.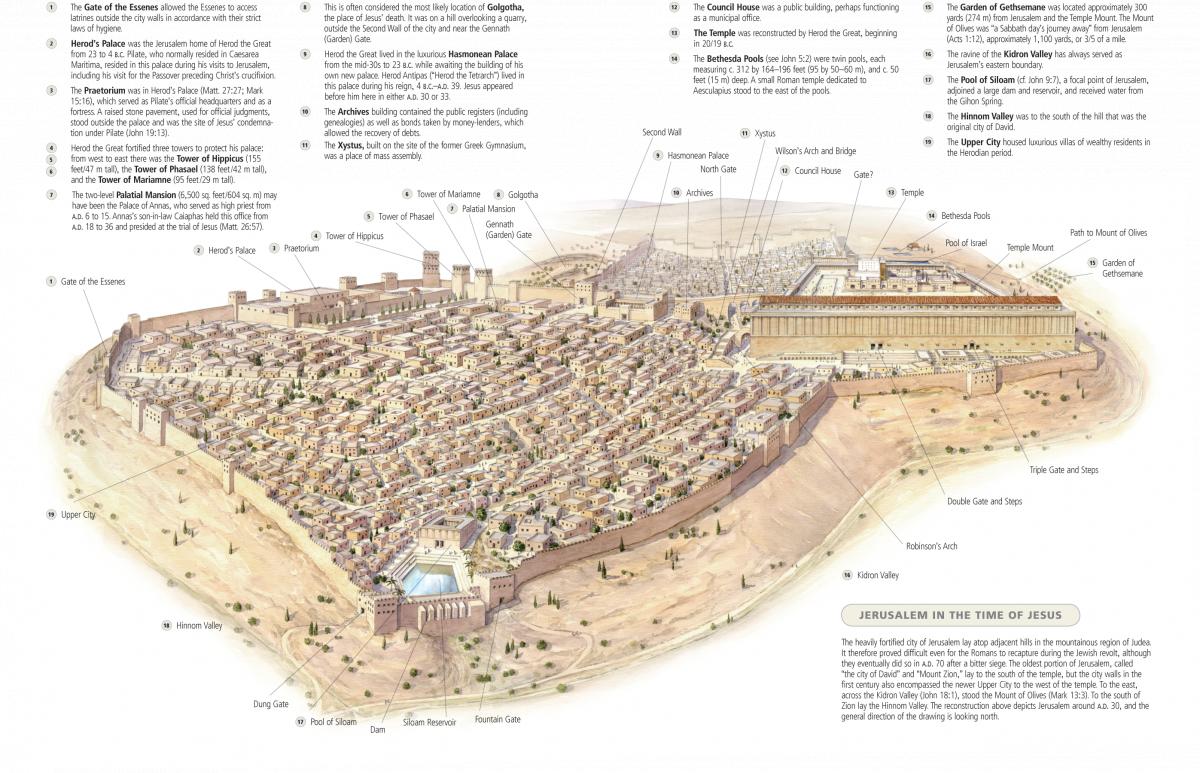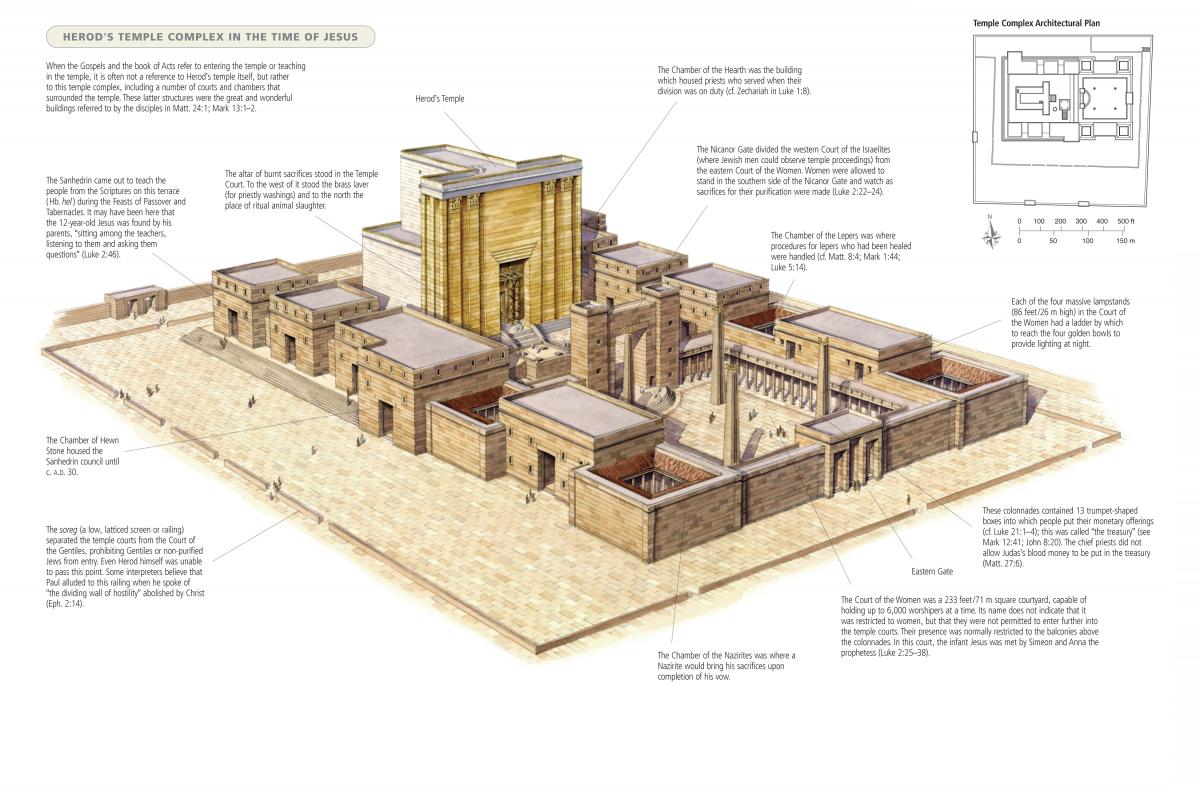 ht: Justin Taylor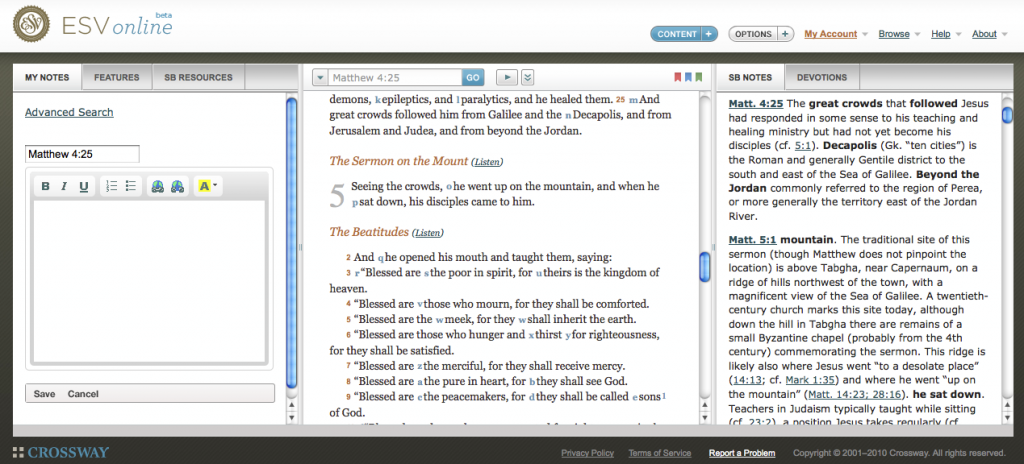 via the ESV blog:
Crossway is pleased to announce the new ESV Online.   A key part of Crossway's ESV Digital initiative, the ESV Online is a powerful and convenient tool giving access to the ESV Bible and other resources for understanding and applying God's Word.

Free access to the ESV Online is now available by signing up at www.esvonline.org.   Users are able to customize their own interface, highlight and mark verse numbers, add bookmark ribbons, search the ESV text, and manage personal notes.   The free version also includes a variety of daily reading plans and devotional calendars.

Want to try the highly acclaimed ESV Study Bible free?   For a limited time, everyone who signs up for an ESV Online account will receive a free 30 day trial access to the ESV Study Bible.   Current Online ESV Study Bible users will be contacted via email over the coming weeks and will have their accounts migrated to the ESV Online site with access to all the study notes and resources.   The Study Bible module is also available to purchase within the ESV Online platform or for free with the purchase of any print edition of the ESV Study Bible.

In addition to the above, Crossway is developing many more ESV Online modules to enhance the study of God's Word.   Stay tuned for the release of Greek tools, MacArthur study notes, commentaries, Bible Audio recordings in numerous languages, and much more!

Coming this summer, ESV Online users will be able to sync their account with mobile ESV Bible apps so personal highlights and notes can be accessed and updated anywhere.

Crossway also invites ESV Online users to offer their thoughts and suggestions for future improvements and new ESV Bible resources.   We look forward to serving you with ESV digital initiatives and the development of innovative tools—to make the ESV Bible accessible to everyone, everywhere, every way.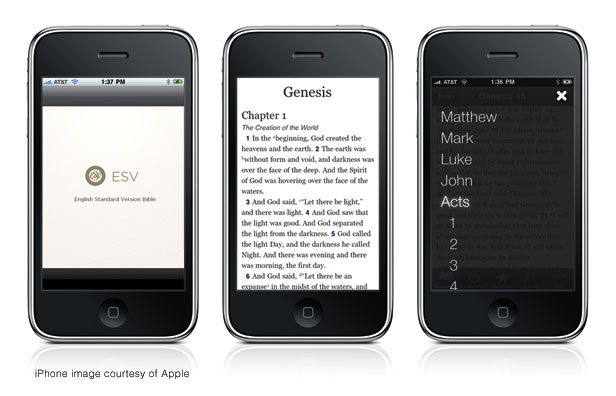 Crossway just announced the release of their new ESV Bible app.   For the first time, users can read the ESV Bible on their iPhone or iPod Touch, with or without an internet connection—for free.   Details from the app site:
Free.   The only free ESV Bible App that is available on your iPhone or iPod Touch, with or without an internet connection.
Use.   Offers a fantastic user experience.   Finding a verse is fast and easy.   Jump from a cross-reference or footnote back to your passage with seamless fluidity.
Read.   Scroll through the entire Bible in landscape or full screen modes and enlarge or shrink font sizes to fit your needs.     The ESV Bible App emulates the same unique typography users encounter with print versions of the ESV.
Search.   Ever had a verse on the tip of your tongue but can't remember where it's found?   Search for it with the Bible App's comprehensive concordance.
Write.   With the ability to record notes, you can capture your thoughts and observations in a sermon or personal Bible study.
Highlight.   Highlight verses by simply pressing on them.   Save them in your favorites for future reference.
Share.   Share verses with friends and family via email and Twitter.
Manage.   Add, delete, or reorder your verse favorites.   Save your own user-defined preferences.
I'm just beginning to tinker with it, but from what I've seen so far, it's my new favorite Bible app.   Definitely worth a free test-drive.
And for those of you using other mobile devices, the ESV blog assures, "we haven't forgotten about you.   We're working on it!"