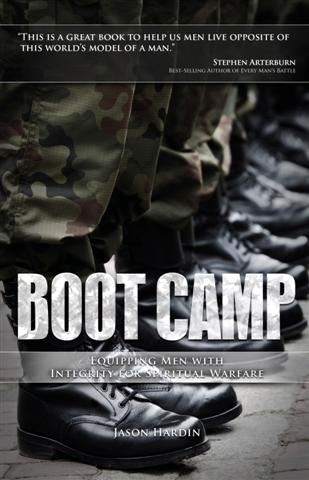 "This is a great book to help us men live opposite of this world's model of a man."
(Stephen Arterburn, best-selling author of
Every Man's Battle)
Boot Camp. Where a soldier learns the basics. Where he is equipped for the battles ahead. Boot Camp is where he tests his weapons and learns to fight with discipline and honor. Boot Camp is where careful, deliberate time is taken to learn from the veterans of previous wars. What obstacles confronted them? Where did they meet the enemy? Most importantly, how did they succeed?
Boot Camp: Equipping Men with Integrity for Spiritual Warfare is the first volume in the new IMAGE series of books for men by Jason Hardin. It serves as a Basic Training manual in the spiritual war for honor, integrity, and a God-glorifying life.
Men love the epic tales of warriors who have defied the odds, proven to be larger-than-life at the decisive moment, and led other men in efforts that have shaped the course of history. We quite naturally imagine being "that kind" of man. But there is a greater story. There is a grander adventure. There is a divine chronicle of eternal magnitude in which you—in one way or another—will play your own unique part. The means of shaping our lives into harmony with the glory of our Creator has been furnished in Jesus the Christ. And he invites you to join his ranks. Retail: $13.99. IMAGE DISCOUNT – $10.95.
Prefer e-books? Boot Camp is also available for the Kindle
.
---

Table of Contents
Preface to the I.M.A.G.E. Series
Introduction
Part One: The Beginning of Our Journey
Boot Camp
Face to Face With the One Who Sees Your Potential
Currahee
The Mountain of God
A Few Good Men
What Exactly Is Integrity?

The Lord's Infirmary
A Time to Heal
Part Two: As Integrity Is Born, What Must Be Put to Death?
Selfishness
The Struggle Against Our Own Affections
Sexual Immorality
Learning When To Fight and When to Run
Idolatry
To What Am I Pledging My Allegiance?
Jealousy
Playing into the Enemy's Hands by Turning on Each Other
Anger
When the Going Gets Tough, Can I Control My Emotions?
Sins of the Tongue
Loose Lips Sink Ships
Hypocrisy
Wearing the Uniform of Both Sides
Part Three: The Lord's Armory
Be Strong in the Lord
Depending on the King Who Has Never Lost
The Armor of Holiness
That You May Be Able to Withstand in the Evil Day
Conclusion: Our Battle Cry