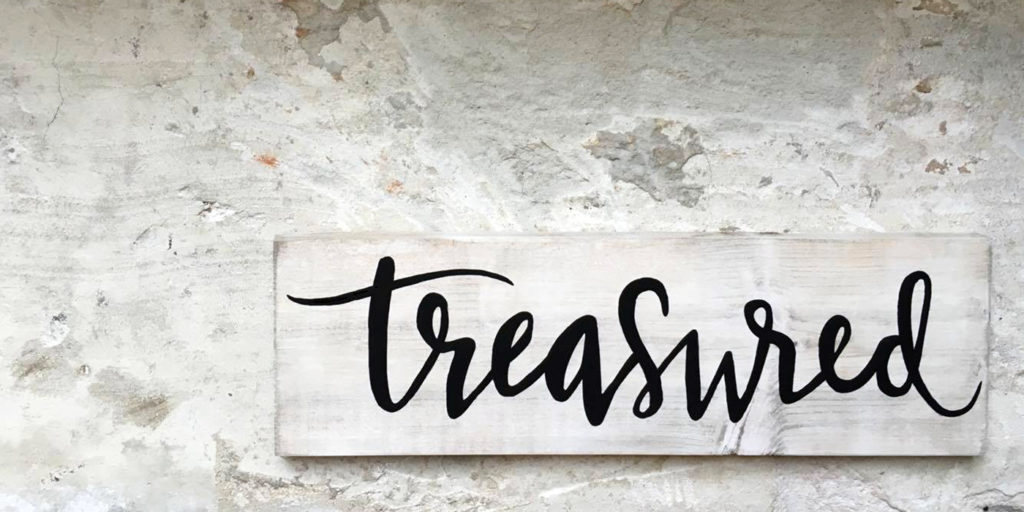 In Psalm 83, a man named Asaph is crying out to God for help.
O God, do not keep silence;
do not hold your peace or be still, O God!
For behold, your enemies make an uproar;
those who hate you have raised their heads.
They lay crafty plans against your people;
they consult together against your treasured ones. (Psa 83:1-3)
In the midst of severe oppression from foreign nations, Asaph's prayer is that God would rise up and deliver his people, "that they may know that you alone, whose name is the LORD, are the Most High over all the earth" (Psa 83:18).
While there is much to learn from Psalm 83, focus for a moment on that last phrase in Psalm 83:3 – "they consult together against your treasured ones." God's people are his treasured ones. That's absolutely remarkable. It's an idea worth meditating upon throughout the day. If I belong to God, he doesn't just know me. He doesn't simply tolerate me. He treasures me.
How do you handle those things that you treasure–your family heirlooms, photo albums, once-in-a-lifetime keepsakes, maybe even your expensive gadgets? When you treasure something, you're extra-mindful of it. You do everything in your power to preserve it. You're anxious to draw attention to it so that others can appreciate its special significance.
With that principle in mind, marvel at the fact that of all the ways God's poet could describe how God feels about his people, he used "treasured ones." And how much more spectacularly true is this of you if by the blood of God's own Son you have become a part of the ransomed disciples of Jesus? Now…
You are a chosen race, a royal priesthood, a holy nation, a people for his own possession, that you may proclaim the excellencies of him who called you out of darkness, into his marvelous light. Once you were not a people, but now you are God's people; once you had not received mercy, but now you have received mercy. (1 Pet 2:9-10)
This world is a broken, harsh, sin-laden, dark, and hurtful place, which means that some days are full of brokenness, harshness, sin, darkness, and hurt … because of mankind's rebellion against God. But whatever you encounter today, anchor yourself to this truth: if you are a part of the people of God, you are "a treasured one." Don't let anyone, including Satan himself, tell you differently.