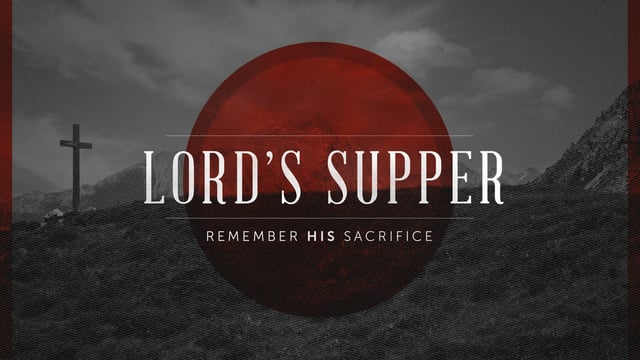 Nearly 2,000 years ago, Jesus instituted a memorial of his death. In our assemblies at Laurel Canyon, we encourage those men who lead our minds in this observance to focus our attention and their comments on a specific passage of Scripture each week. Perhaps you, in your individual meditations or in leading the minds of your brothers and sisters in Christ, will find this peek at our plan for the year helpful. Here are fifty-three reasons why Jesus came to die, one for each Lord's day of 2017.
JANUARY
1st – To Bear the Curse of Sin for Us (Gal 3:10-14)
8th – To Fulfill the Will of His Father (Isa 53:10)
15th – To Learn Obedience and Be Made Perfect (Heb 5:7-10)
22nd – To Show the Wealth of God's Love and Grace for Sinners (Rom 5:6-8)
29th – To Show His Own Love for Us (Eph 5:1-2)
FEBRUARY
5th – To Cancel the Record of Debt Against Us (Col 2:13-15)
12th – To Become a Ransom for Sinners (1 Tim 2:5-6)
19th – For the Forgiveness of Our Sins (Eph 1:7-10)
26th – To Provide the Basis for Our Justification (Rom 5:9-11)
MARCH
5th – So That We Might Be Made Righteous (Rom 5:18-19)
12th – That There Might Be No Condemnation For Those Who Are in Him (Rom 8:1, 34)
19th – To Make Us Holy, Blameless, and Above Reproach (Col 1:21-23)
26th – To Purify our Consciences (Heb 9:13-14)
APRIL
2nd – To Obtain for Us All Things That Are Good (Rom 8:31-32)
9th – To Bear Our Griefs and Carry Our Sorrows (Isaiah 53:3-4)
16th – That By His Wounds We Might Be Healed (Isaiah 53:5)
23rd – That We Might Not Perish But Have Eternal Life (John 3:16)
30th – To Deliver Us from the Present Evil Age (Galatians 1:3-5)
MAY
7th – To Reconcile Us to God (2 Cor 5:17-20)
14th – To Bring Us to God (1 Pet 3:18)
21st – So That We Might Belong to Him (Rom 7:4)
28th – To Give Us Access to the Holy Places (Heb 10:19-22)
JUNE
4th – To Become the Place Where We Meet God (John 2:18-21)
11th – To Replace the Old Testament Priesthood (Heb 9:15-24)
18th – To Become the Eternal High Priest (Heb 7:23-27)
25th – To Become a Sympathetic and Helpful Priest (Heb 4:14-16)
JULY
2nd – To Free Us From Our Futile Ways (1 Pet 1:17-19)
9th – To Free Us from the Slavery of Our Sins (Rev 1:4-6)
16th – That We Might Die to Sin and Live to Righteousness (1 Pet 2:24)
23rd – To Enable Us to Live for Jesus and Not Ourselves (2 Cor 5:14-15)
30th– To Make His Cross the Ground of Our Boasting (Gal 6:14)
AUGUST
6th – To Enable Us to Live by Faith in Him (Gal 2:20)
13th – To Create a People Passionate for Good Works (Tit 2:11-14)
20th – To Call Us to Follow His Example of Humility (Phil 2:5-8)
27th – To Create a Band of Crucified Followers (Luke 9:23-25)
SEPTEMBER
3rd – To Free Us From the Fear of Death (Heb 2:14-15)
10th – So That We Would Be with Him After Death (1 Thes 5:9-11)
17th – To Secure Our Resurrection From the Dead (Rom 8:9-11)
24th – To Destroy the Works of the Devil (1 John 3:7-8)
OCTOBER
1st – To Unleash the Power of the Gospel (1 Cor 1:18)
8th – To Gain His Joy and Ours (Heb 12:1-2)
15th – So That He Would Be Crowned with Glory and Honor (Heb 2:9)
22nd – To Show That the Worst Evil Can be Used by God for Good (Acts 4:23-28)
29th – To Serve as a Fragrant Offering to God (Eph 5:1-2)
NOVEMBER
5th – To Fulfill Old Testament Prophecy (1 Pet 1:10-12)
12th – To Serve as our Passover Lamb (1 Cor 5:6-8)
19th – To Fulfill the Charge of His Heavenly Father (John 10:17-18)
26th – To Give Marriage Its Deepest Meaning (Eph 5:25-32)
DECEMBER
3rd – To Create in Himself One New Man in Place of Jews and Gentiles (Eph 2:11-16)
10th – To Ransom People from Every Tribe, Language, People, and Nation (Rev 5:9-10)
17th – To Rescue Us from the Fear of Judgment (Heb 9:27-28)
24th – That We Might Regularly Examine Ourselves and Remember Him (1 Cor 11:23-28)
31st – That We Might Participate in the Body and Blood of Christ (1 Cor 10:14-16)
---
If you're looking to grow in your appreciation of what our heavenly Father planned from before the foundation of the world and what our Lord accomplished on the cross, I highly recommend Beneath the Cross: Essays and Reflections on the Lord's Supper.