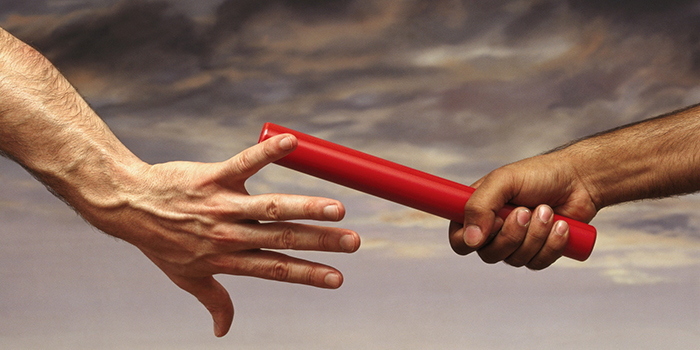 A mentor is "a wise and trusted counselor or teacher." While the word mentor isn't used in the Bible, the principle most certainly can be seen throughout.
Romans 15:13-14 – you yourselves are able … to instruct one another.
Philippians 4:4-9 – What you have learned and received and heard and seen in me–practice these things…
Proverbs 27:17 – Iron sharpens iron, and one man sharpens another.
Real-Life Examples from God's Word:
Jethro to Moses – "What you are doing is not good" (Exo 18:1, 13-26)
Moses to Joshua – "Be strong and courageous" (Deut 31:7-8)
Eli to Samuel – "You shall say, 'Speak, LORD, for your servant hears'" (1 Sam 3:8-9)
David to Solomon – "Know the God of your father…" (1 Chron 28:9-10)
Elijah to Elisha – Elijah passed by him and cast his cloak upon him (1 Kings 19:19)
Mordecai to Esther – "Who knows…for such a time as this?" (Est 4:12-14)
Jesus to four fishermen – "I will make you fishers of men" (Matt 4:18-19)
Barnabas to Saul – Barnabas…brought him to the apostles (Acts 9:26-28; 11:19-26)
Priscilla and Aquila to Apollos – they…explained to him (Acts 18:24-28)
Paul to Timothy – as a son with a father he has served with me (Phil 2:22-23)
Paul to Titus – my true child in a common faith (Titus 1:4)
Timothy to faithful men – who will be able to teach others also (2 Tim 2:1-2)
Titus to older women – train the young women (Titus 2:1-8)
To the More Experienced:
Walk in wisdom (Prov 1:7)
Show yourself trustworthy (Prov 11:13)
Be intentional (Psa 71:17-18; 145:4)
To the Less Experienced:
Walk in wisdom (Prov 4:7)
Take care who you're listening to (Prov 13:14)
Show yourself trustworthy (1 Tim 1:18)
Be intentional (Prov 15:22)
Whomever we are, let's allow God to shape within us the hearts of mentors.
So, being affectionately desirous of you, we were ready to share with you not only the gospel of God but also our own selves, because you had become very dear to us. (1 Thes 2:8)
This sermon was delivered on April 10, 2016.
For more sermons, visit the sermon archive or subscribe to the sermon podcast.