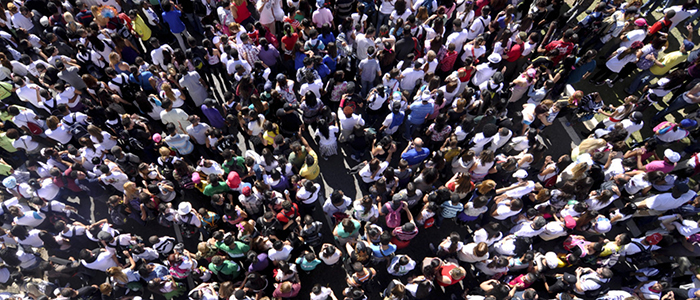 And a great crowd followed [Jesus] and thronged about him. (Mark 5:24)
You know what big crowds are like, don't you?
And there was a woman who had had a discharge of blood for twelve years, and who had suffered much under many physicians, and had spent all that she had, and was no better but rather grew worse. (Mark 5:25-26)
Imagine being that woman–in a loud, excited, chaotic throng of people doing everything they can to get close to Jesus. And yet, somehow…
She had heard the reports about Jesus and came up behind him in the crowd and touched his garment. For she said, "If I touch even his garments, I will be made well." And immediately the flow of blood dried up, and she felt in her body that she was healed of her disease. (Mark 5:27-29)
Can you imagine?
And Jesus, perceiving in himself that power had gone out from him, immediately turned about in the crowd and said, "Who touched my garments?" And his disciples said to him, "You see the crowd pressing around you, and yet you say, 'Who touched me?'" And he looked around to see who had done it. But the woman, knowing what had happened to her, came in fear and trembling and fell down before him and told him the whole truth. And he said to her, "Daughter, your faith has made you well; go in peace, and be healed of your disease." (Mark 5:30-34)
Let's make this personal today. From the outset of your morning, there's a great crowd between you and Jesus–a throng, pulling and distracting and pushing and interrupting you.
Appointments. Bills. Kids. Breakfast. Traffic. Expectations. Deadlines. Expense reports. Quarterly reviews. Final exams. Friends. Frustrations. Politics. Facebook. Twitter. Instagram. Pinterest. CNN. Fox News. MSNBC. ESPN. The Today Show. Good Morning America. Lunch. Fixer Upper. Email. Sports. Recitals. Hospital visits. Homework. Housework. Mowing. Landscaping. Weeds. Supper. Dishes. Phone calls. Family time. Bath time. Bed time.
This figurative "crowd" stands between you and Jesus today. Push through that crowd! Set your eyes on Jesus–the founder and perfecter of our faith (Heb 12:2). Deliberately focus and navigate your way through the throng so that you might hear him, walk with him, be refreshed by him, and be ready to share the news of him with others.
In the midst of the chaos, he still recognizes the determined touch of faith. "Daughter, your faith has made you well; go in peace, and be healed…"
---