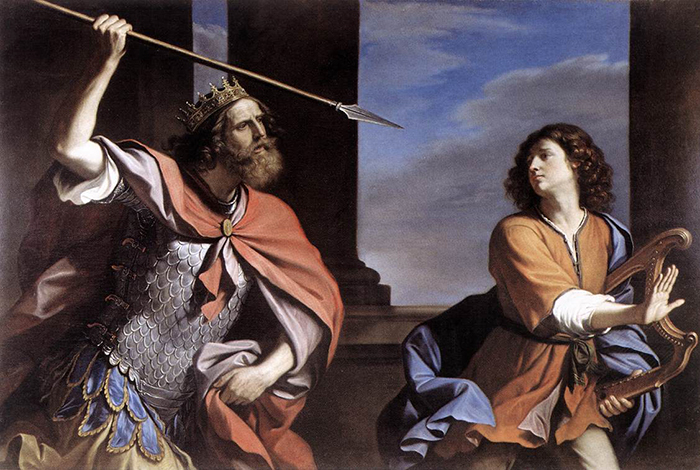 It's Vacation Bible School week (7:00 PM each evening) at Laurel Canyon. All ages (6 months old – adult) are learning about having a heart for God with lessons from the life of David, a man after God's own heart (Acts 13:22). Jonathan Brown is with us this week presenting lessons for the adults and he made a quick observation from 1 Samuel 18 that struck me.
Saul is still king of Israel but growing to be consumed with jealousy. Women have been heard celebrating,
"Saul has struck down his thousands,
__ and David his ten thousands."
And Saul was very angry, and this saying displeased him. He said, "They have ascribed to David ten thousands, and to me they have ascribed thousands, and what more can he have but the kingdom?" And Saul eyed David from that day on.
The next day a harmful spirit from God rushed upon Saul, and he raved within his house while David was playing the lyre, as he did day by day. Saul had his spear in his hand. And Saul hurled the spear, for he thought, "I will pin David to the wall." But David evaded him twice.
In those moments, David has a choice.
He has already been anointed by Samuel (1 Sam 16:1-13)
The Spirit of the LORD has rushed upon David (1 Sam 16:13)
The Spirit of the LORD has departed from Saul (1 Sam 16:14)
David has shown himself courageous by standing up to and slaying Goliath when no one else will, including Saul (1 Sam 17)
David, though he has been anointed by Samuel as king, continues to humbly play the lyre for the refreshment and well-being of Mad King Saul
To this point, David has shown himself a model of doing the right thing, at the right time, for the right reasons. And what does he receive from Saul in return for his integrity and loyalty? A spear hurled in his direction–not once, but twice.
In those moments, David has a choice.
Retaliate and become king in the image of Saul.
Wait on the LORD, leave vengeance in divine hands, continue doing what is right, and become king in the image of God.
The point? "Spears" are occasionally hurled in your direction. Perhaps they are even hurled frequently. In those moments, you also have a choice.
Retaliate as a man or woman whose mind is set on the things of this world.
Respond as a son or daughter of God whose mind is set on the glories of heaven.
Romans 12:14-21 shows how those whose hearts beat in harmony with God will respond.
Bless those who persecute you; bless and do not curse them. Rejoice with those who rejoice, weep with those who weep. Live in harmony with one another. Do not be haughty, but associate with the lowly. Never be wise in your own sight. Repay no one evil for evil, but give thought to do what is honorable in the sight of all. If possible, so far as it depends on you, live peaceably with all. Beloved, never avenge yourselves, but leave it to the wrath of God, for it is written, "Vengeance is mine, I will repay, says the Lord." To the contrary, "if your enemy is hungry, feed him; if he is thirsty, give him something to drink; for by so doing you will heap burning coals on his head." Do not be overcome by evil, but overcome evil with good.
We would love to have you join us at Laurel Canyon this evening (7:00 PM) as we study together–from toddlers to adults–about having a TENDER heart.