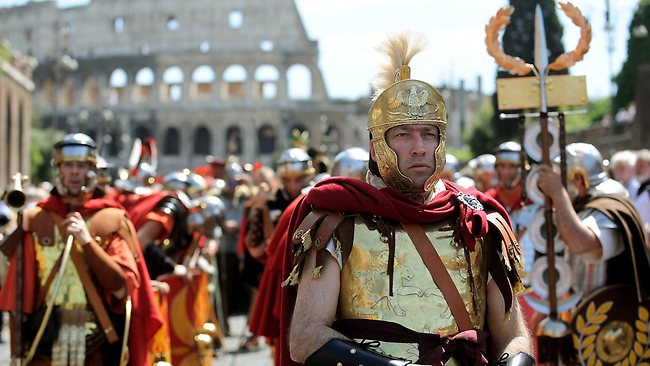 Throughout the New Testament we read of Roman soldiers, centurions, tribunes, and cohorts. This excellent video gives us valuable historical background to understand the cultural references.
With that information in mind, here's a sampling of New Testament references.
Matthew 8:5-13 – Jesus healed the paralyzed servant of a centurion in Capernaum
Luke 3:14 – soldiers asked Jesus what they should do in order to bear fruits in keeping with repentance and were told, "Do not extort money from anyone by threats or by false accusation, and be content with your wages."
John 18:3, 12 – Judas procured "a band of soldiers and some officers from the chief priests and the Pharisees" who went with lanterns and torches and weapons to arrest Jesus
Matthew 27:27-31 – an entire cohort humiliated Jesus following Pilate's condemnation
Luke 23:36 – soldiers mocked Jesus as he hung on the cross offering him sour wine and saying, "If you are the King of the Jews, save yourself!"
Matthew 27:51-54 – when a centurion and those who were with him keeping watch over Jesus saw the earthquake and what took place at Jesus' last breath, they were filled with awe and said, "Truly this was the Son of God!"
Matthew 27:62-66 – Pilate dispatched a guard of soldiers so that the chief priests and Pharisees could make the tomb of Jesus as secure as they could
Matthew 28:1-4 – for fear of the angel of the Lord that rolled back the stone of Jesus' tomb, "the guards trembled and became like dead men."
Acts 10:1-2 – Cornelius was a centurion of what was known as the Italian Cohort in Caesarea, "a devout man who feared God with all his household, gave alms generously to the people, and prayed continually to God."
Acts 12:6 – Peter was a heavily-guarded prisoner, "sleeping between two soldiers, bound with two chains, and sentries before the door were guarding the prison."
Acts 21:30-39 – when Paul was arrested in the temple, he came under the watchful eye of a Roman tribune named Claudius Lysias (23:26)
Acts 22:22-29 – when the mob turned violent against Paul, the tribune (who had bought his Roman citizenship for a large sum) was going to have Paul flogged until he discovered that Paul was a Roman citizen by birth
Acts 23:9-10 – as Paul addressed the Sanhedrin the next day, "the tribune, afraid that Paul would be torn to pieces by them, commanded the soldiers to go down and take him away from among them by force and bring him into the barracks."
Acts 23:16-32 – when the plot to ambush and murder Paul was uncovered, the tribune commanded two centurions, "Get ready two hundred soldiers, with seventy horsemen and two hundred spearmen to go as far as Caesarea at the third hour of the night."
Acts 27:1-6 – a centurion of the Augustan Cohort named Julius escorted Paul to Rome; "Julius treated Paul kindly and gave him leave to go to his friends and be cared for."
Acts 27:42-44 – when the ship struck a reef, "The soldiers' plan was to kill the prisoners, lest any should swim away and escape. But the centurion, wishing to save Paul, kept them from carrying out their plan."
Acts 28:16 – Luke begins to close his narrative, "And when we came into Rome, Paul was allowed to stay by himself, with the soldier who guarded him."
Whomever we are and whatever we do for a living, may we walk with great faith like the centurion of Matthew 8 in the King of all kings and Lord of all lords.
"Truly, I tell you, with no one in Israel have I found such faith. I tell you, many will come from east and west and recline at table with Abraham, Isaac, and Jacob in the kingdom of heaven, while the sons of the kingdom will be thrown into the outer darkness. In that place there will be weeping and gnashing of teeth." (Matt 8:10-12)