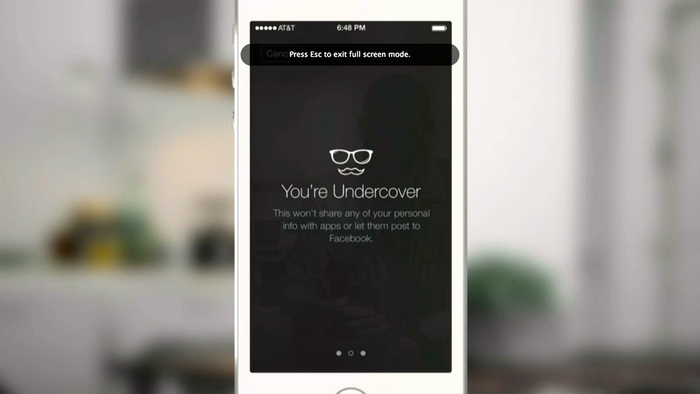 Gizmodo recently reported:
Security researchers recently discovered a serious flaw in Yik Yak, the "anonymous" messaging app popular with teens. In surprisingly simple fashion, the flaw offered hackers a way to discover the identities of Yik Yak's supposedly unnamed users. It also provides a good opportunity to issue this very important PSA: Anonymous apps aren't anonymous at all, and they probably never will be.
The article goes on to document the failed "anonymous" promises of Secret, Whisper, and Snapchat, all very popular apps with teens. It concludes with a quote from Matthew Green of the Johns Hopkins Information Security Institute.
"It's easier to build a pretty app that claims to be secure than to build an app that actually is secure." And then after the apps have compiled millions of users, it's just as easy for them to beg for forgiveness after a hack. It's also easy for you not to give them your personal information in the first place. So just remember that if you don't want anyone to know you said anything, the safest course of action is not to shout it from a random app.
Herein lies a practical and serious challenge for parents in the digital age.
Do you know what apps have been installed on your child's digital device?
Are you routinely monitoring what gets downloaded and shared?
Have you taught your children that there really is no such thing as "temporary" or "anonymous" online interaction?
And what about the real heart of the matter? Even if we carefully safeguard against certain apps and routinely monitor online activity, what about the hearts of our children? Are we clearly communicating that no one–young or old–is anonymous in the sight of God and that this is a blessing, not a curse? Even if the total-anonymity hurdle is eventually cleared by some app developer, how will that in any way alter the expectations of our heavenly Father?
A very loose adaptation of Psalm 139:7-12 makes the point.
Where shall I go from your Spirit?
__ Or where shall I hide from your presence?
If I open the Whisper app, you are there!
__ If I send a message with Yik Yak, you are there!
If I take a picture with my smartphone
__ and depend upon Snapchat to keep my secret,
there is no way to hide my actions, my words,
__ or even the thoughts of my heart from you.
If I say, "Surely a private browser window will grant me complete anonymity
__ and I will be free to do whatever I want without detection,"
there is no way to keep a secret from you;
__ the darkness of the Internet is as bright as the day,
__ for the "anonymous" is perfectly seen and known by you.
We must use these truths to secure our own hearts and shape the hearts of our children. We must be diligent in teaching them and demonstrating by our manner of life that these facts are not a source of dread for the person whose heart is being shaped by God. These truths form the foundation of God's most precious promises! God sees us. Perfectly. He hears us. Flawlessly. He knows us. Completely. Even better than we know ourselves. And he has invited us to build meaningful, hope-filled, satisfying lives on these truths.
May we diligently teach the young people around us that the shadows and darkness of this world (online and offline) are full of lies. To act as if we can hide from God is foolishness. To find refuge in his grace and purpose in his will is what life is all about.
"For nothing is hidden that will not be made manifest, nor is anything secret that will not be known and come to light." (Luke 8:17)
The end of the matter; all has been heard. Fear God and keep his commandments, for this is the whole duty of man. For God will bring every deed into judgment, with every secret thing, whether good or evil. (Eccl 12:13-14)
There will never be an app that can change those facts.