As nearly as long as there have been human beings, there have been tumultuous times. In the midst of upheaval and uncertainty, we long for stability.
Isaiah 33:1-6 describes "the time of trouble" and "tumultuous noise." But notice where the prophet ultimately points his audience.
Ah, you destroyer,
__ who yourself have not been destroyed,
you traitor,
__ whom none has betrayed!
When you have ceased to destroy,
__ you will be destroyed;
and when you have finished betraying,
__ they will betray you.
O LORD, be gracious to us; we wait for you.
__ Be our arm every morning,
__ our salvation in the time of trouble.
At the tumultuous noise peoples flee;
__ when you lift yourself up, nations are scattered,
and your spoil is gathered as the caterpillar gathers;
__ as locusts leap, it is leapt upon.
The LORD is exalted, for he dwells on high;
__ he will fill Zion with justice and righteousness,
and he will be the stability of your times,
__ abundance of salvation, wisdom, and knowledge;
__ the fear of the LORD is Zion's treasure.
Do you remember learning about prisms in school? They refract light, dispersing it into its individual component parts. You might have memorized R.O.Y.G.B.I.V. to help you remember the colors of the rainbow.
What if we treat Isaiah 33:5-6 as a God-shaped prism?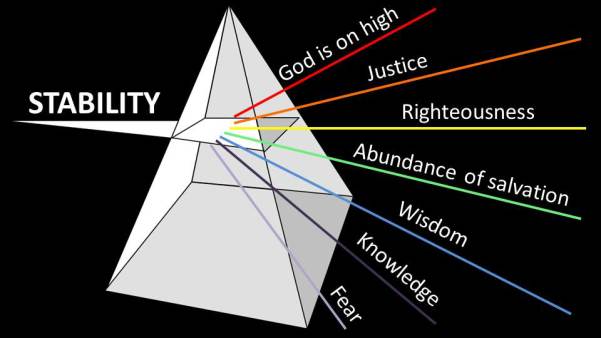 We can look to the Lord for stability in times of uncertainty because he dwells on high. This is the keystone of stability in times of trouble.
As the one who alone dwells on high, he is the perfect source of:
Justice
Righteousness
Abundant salvation
Wisdom
Knowledge
Stability is available and attainable. With the Lord as our foundation, we can be steadfast and faithfully immovable. It comes down to this question: will we reverently fear him?
This sermon was delivered on November 30, 2014.
For more sermons, visit the sermons archive or subscribe to the podcast.