Therefore take up the whole armor of God, that you may be able to withstand in the evil day, and having done all, to stand firm. (Eph 6:13)
The difference between victory and defeat often hinges on the presence and effectiveness of a battle plan. With that in mind, Tim Challies has provided an excellent free resource for your fight against sin.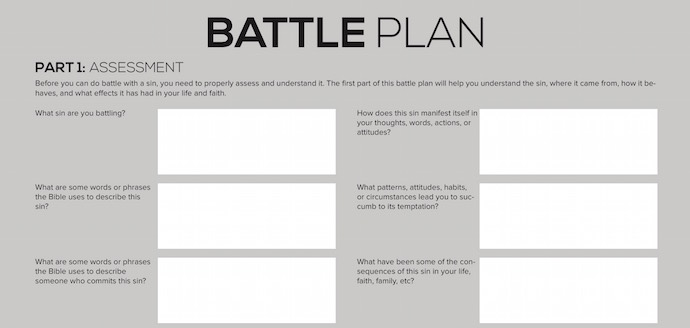 The Battle Plan consists of two parts.
Part 1: ASSESSMENT – Before you can do battle with a sin, you need to properly assess and understand it. The first part of this battle plan will help you understand the sin, where it came from, how it behaves, and what effects it has had in your life and faith.
Part 2: ACTION – Now that you better understand the sin, its source, its power, its effects, and the heart idolatries at its root, you are ready to begin considering actions you might take against it.
The Battle Plan also includes a tracking sheet for use with a mentor or accountability partner.

If you're serious about answering the Spirit's call to stand firm in your fight against sin, this is a resource worth checking out.