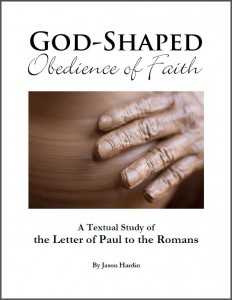 At Laurel Canyon, we just wrapped up a 6-month adult Bible study of Romans. Video of all 24 classes is available here.
I'm excited to pass along that an adapted version of the workbook I wrote over the course of the last 6+ months is now available for adult, college, or teenage Bible classes, as well as personal study.
The Letter of Paul to the Romans forms a magnificent landscape of God-breathed revelation, framed by two bookends:
…we have received grace and apostleship to bring about the obedience of faith… (Rom 1:5)
…according to the command of the eternal God, to bring about the obedience of faith—to the only wise God be glory forevermore through Jesus Christ! Amen. (Rom 16:25-27)
At the heart of Paul's letter is this question: Are you willing to "present" your body "as a living sacrifice, holy and acceptable to God, which is your spiritual worship"? Will you refuse to be "conformed to this world," choosing instead to be "transformed by the renewal of your mind, that by testing you may discern what is the will of God, what is good and acceptable and perfect"?
This new workbook walks you through the text of Romans via 24 lessons with discussion questions throughout each lesson. It contains 91 pages. You can see the Table of Contents here. The workbook is designed to cover two quarters worth of adult, college, or teenage Bible classes, but can also be used as a tool to deepen and enhance your personal understanding of Paul's magnificent letter.
Two licenses are available:
Individual License: personally study the material anytime, anywhere.
Congregational License: allows a congregation to download and share the electronic file of the workbook with its members and make unlimited printed copies for their congregation's use.
Click here for more workbooks with similar licensing options.