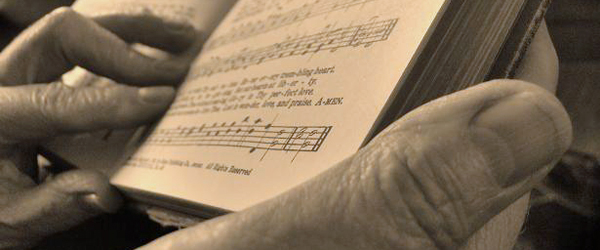 I'm thankful to be a part of a local church that regularly sings old and new hymns of praise, thanksgiving, and remembrance.
In our Sunday morning assembly, we sang a hymn that's just 18-years-old–a mere "toddler" in terms of a typical hymn's propagation and life cycle. It's still relatively new to most every member of our congregation, but its beautiful combination of simple melody and profound lyrics served us well as we prepared our hearts to observe the Lord's Supper.
In our Sunday evening assembly, we sang When I Survey the Wondrous Cross, lyrics penned by Isaac Watts more than 300 years ago. People of God have been ushered to the foot of the cross via those words for more than three centuries! In my personal opinion, you won't find four lines of more powerful prose in all of English hymnody than Watts' third verse.
See from His head, His hands, His feet,
Sorrow and love flow mingled down!
Did e'er such love and sorrow meet,
Or thorns compose so rich a crown?
I love learning and singing new hymns. It's one of my favorite things in life. I appreciate older brethren who are willing to patiently endure the learning process and joyfully work to expand their repertoire. It's not easy learning new songs to the point that you can easily remember the melody and focus most all of your mental energy on the message of the lyrics. I'm thankful for mature brethren who realize that one characteristic of strength is a willingness to bear with the enthusiasm of the young, even when one's own enthusiasm doesn't burn quite as bright.
To my brothers who regularly select songs to lead in assemblies of Christians, could I encourage you not to overlook those hymns that are centuries old? There are reasons they have endured. If they are slowly allowed to slip from a congregation's hymn-consciousness, we won't be stronger, more mature, or better off as a result.
Let the word of Christ dwell in you richly, teaching and admonishing one another in all wisdom, singing psalms and hymns and spiritual songs, with thankfulness in your hearts to God. (Col 3:16)
Generally speaking, "rich" hymns seem to endure. Some of our richest hymns are the ones we've been singing for centuries. They continue to be included in hymnals because they are rich. And if you–the song leaders–don't periodically include these doctrinally rich hymns in your selections and use their deeply-rooted lyrics as a means of leading our hearts into ever-deeper understanding and worship, who will?