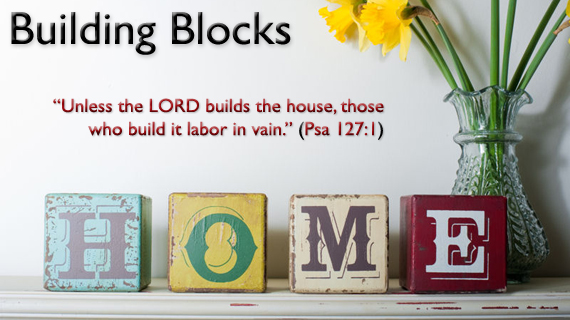 I, therefore, a prisoner for the Lord, urge you to walk in a manner worthy of the calling to which you have been called, with all humility and gentleness, with patience, bearing with one another in love, eager to maintain the unity of the Spirit in the bond of peace. (Eph 4:1-3)
Annoyances. Frustrations. Disagreements. Misunderstandings. Short tempers.
If you're human, you can relate. And because human homes are made up of human beings, the atmosphere of our homes is sometimes polluted with relational smog. In such moments, the last word on our minds may be "gentleness."
Of the many prophecies Jesus fulfilled, consider this one:
___ He will not quarrel or cry aloud,
_____ nor will anyone hear his voice in the streets;
___ a bruised reed he will not break,
_____ and a smoldering wick he will not quench. (Matt 12:19-20)
Gentleness is a fruit of the Spirit (Gal 5:22-23). It is "put on" by those who have dedicated themselves to holiness (Col 3:12). It is a sign of growth in character. The gentle man or woman has left behind childish foolishness (Tit 3:3) and is manifesting maturity in the determination to "speak evil of no one, to avoid quarreling, to be gentle, to show perfect courtesy toward all people" (Tit 3:2). In other words, gentleness doesn't "come naturally." Gentleness is a choice. The choice to walk in the footsteps of our Savior. Who did not quarrel. Whose voice did not echo in unrighteous anger from across the street. Who did not maliciously break the broken reed or selfishly quench the smoldering wick.
Human homes are made up of human beings. And with human beings come annoyances, frustrations, disagreements, misunderstandings, and short tempers.
Husband: discipline yourself for gentleness
Wife: express respect for gentleness
Dad: in word and deed teach gentleness
Mom: model and promote gentleness
Older sibling: be an example of gentleness
Child: learn the value of gentleness
…and watch as the unity of the Spirit in the bond of peace produces blessings in your home.
For discussion: What has recently happened in our home that has annoyed you? How did you handle it? Does it matter how we handle ourselves when we're frustrated? Why? In your own words, what is Matthew 12:19-20 saying about Jesus? What can we learn about gentleness from him? Why is it hard to react with gentleness toward those who are rude to us at the grocery store, work, or school? Is it sometimes even more challenging to react with gentleness at home? If so, why? What are some ways we can cultivate an atmosphere of gentleness in our home this week?