I'm excited about this Summer. Lord willing, it will be the first opportunity I've had to work on the teaching-end of an internship with a young man interested in dedicating his life to the work of an evangelist. Your prayers for our efforts at Laurel Canyon would be appreciated.
In light of this great opportunity, I've been thinking about resources that have helped me along the way. I want to highlight four books that fall nicely into four important categories:
The perspective of wisdom
The importance of character
The practical side of ministry
The craft of public speaking
I highly recommend all four books. If you're just beginning the work of preaching, or even entertaining the possibility of that role of service in the future, get these books. If you've been preaching for several years, I'm confident these books would still be worth your time. If you know of a young man doing his best to grow in the work of an evangelist, these would make excellent gifts that could impact him for years to come.
I'm excited to pass along that One Stone Biblical Resources is running a special sale for InGodsImage.com readers. Don't miss the limited-time DISCOUNT CODE at the end of this post.
---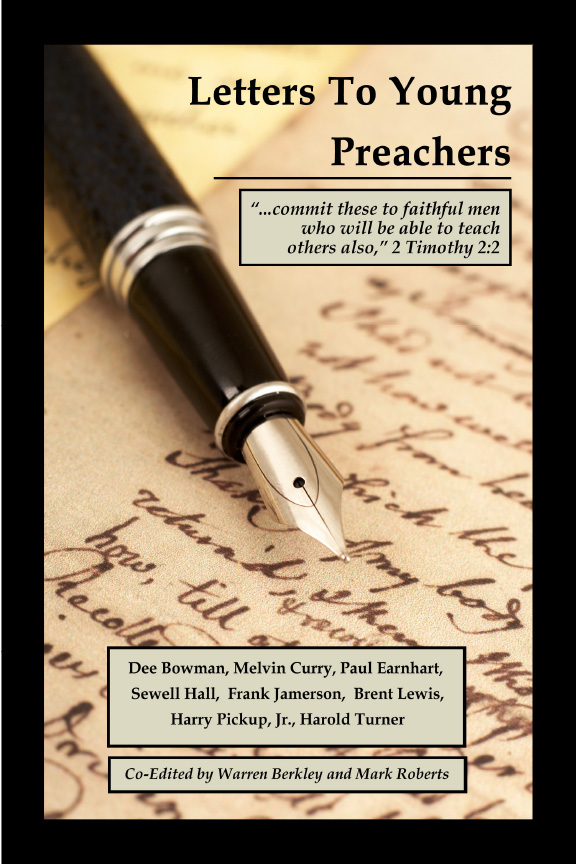 The perspective of wisdom: Letters to Young Preachers, co-edited by Warren Berkley and Mark Roberts, is exactly the kind of book I wish I could have read 15 years ago. I, my marriage, and my preaching would have been the better for it. This book encouraged me immensely and made me reevaluate my ministry on a number of different fronts. The book contains very personal, candid "letters" from Sewell Hall, Dee Bowman, Frank Jamerson, Paul Earnhart, Melvin Curry, Brent Lewis, Harry Pickup, Jr. and Harold Turner. I genuinely came away feeling as if these letters were written to me. While I'm thankful for all the letters, I found Sewell Hall's letter particularly powerful as he reminds the young preacher of things he must do, things he must not do, and the importance of striving for balance.
In between the letters, the book is supplemented with a wide variety of very helpful "How To" articles:
How to Build Your Knowledge Base (Dan Petty)
How to Build Trust with Members (Wilson Adams)
How to Teach an Adult Bible Class (Warren E. Berkley)
How to Use and Not Misuse Biblical Languages (Jeff Wilson)
How to Plan Your Preaching (Mark Roberts)
How to Deliver a Good Sermon (Don Truex)
How to Use Technology Wisely (Max Dawson)
How to Keep Yourself Pure (David Banning)
How to Deal Wisely with Elders (Jon Quinn)
How to Do Personal Evangelism (Mike Wilson)
How and When to Move (Harold Hancock)
Letters to Young Preachers is regularly $9.25.
---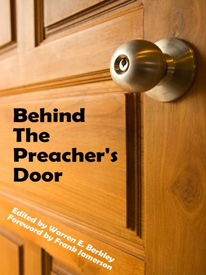 The importance of character: Behind The Preacher's Door, edited by Warren Berkley, is a compilation from twelve different writers that issues a challenging call for personal purity and discipline to all Christians, with a special focus on those who preach and teach God's Word. Topics include:
The Preacher's Personal Devotion (Gary Henry)
The Preacher's Daily Discipline (Mark Roberts)
The Preacher's Ethics (Matt Allen)
The Preacher's Battle with Pornography (Jason Hardin)
The Preacher's Temptation to Commit Adultery (Edwin Crozier)
The Preacher's Money (David Banning)
The Preacher's Relationship with Difficult Brethren (Frank Walton)
The Preacher's Role in Unity in the Local Church (Russ Bowman)
The Preacher's Friends (Ken Weliever)
The Preacher's Toys: Technology's Impact on His Work (Edwin Crozier)
The Preacher as a Husband (Curtis Pope)
Behind The Preacher's Door is regularly $8.00.
---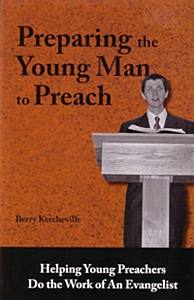 The practical side of ministry: Preparing the Young Man to Preach by Berry Kercheville is a hands-on resource covering a wide variety of everyday topics that should not be taken for granted.
So You Want to Be a Preacher?

Outlining Your Job Description
How to Motivate the Church to Do the Lord's Work
The Art of Effective Bible Study
The Challenge of Preaching Every Week

Learning to Preach Different Kinds of Sermons
How to Preach on Controversial Subjects
Common Errors to Avoid When Preaching
Reaching the Lost: Your Work and the Church's
What You Should Teach an Unbeliever
Exciting Bible Classes: A Means to Spiritual Growth
Learning to Preach Gospel Meetings
Your Relationship with the Elders
Dealing with Trouble in the Church
Your Personal Life and Your Family
The Challenge of Counseling
Considering a New Work or Your First Work
The Preacher's Pay Package
Becoming the Evangelist God Wants You to Be
Preparing the Young Man to Preach is regularly $9.99.
---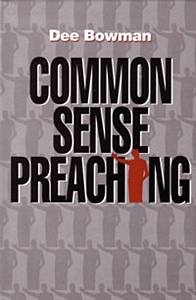 The craft of public speaking: Common Sense Preaching by Dee Bowman guides the reader through the process of sermon preparation and delivery with emphasis on preaching that "storms the will." Topics include:
In the Beginning

Who is Qualified to Preach?
Types of Sermons
Preparing the Sermon
Style and Personality
The Preacher and His Audience
Rhetoric: The Power of Persuasive Speaking
Preaching in this Age
Common Sense Preaching is regularly $19.95.
---
All four of these books are well worth the publisher's retail price, but One Stone is offering a special sale for InGodsImage.com readers. For a limited time, enter the promo code IMAGE at checkout for any one or all four of these books and you'll get 10% off your order. Thanks, One Stone!
What about you? What other valuable resources would you recommend for those wanting to grow in their work as evangelists?