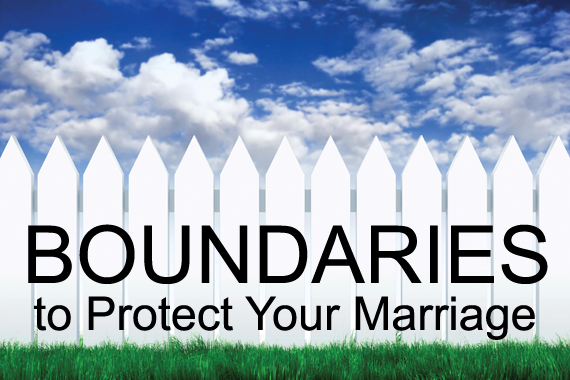 "The prudent sees danger and hides himself, but the simple go on and suffer for it" (Prov 22:3).
You never get used to it. The tears. The excuses. The perplexed looks that reflect shattered hearts.
I've sat and wept and prayed with far too many broken men and crushed women who wish they had established and respected safeguards in the past to protect their marriages that are disintegrating in the present. I've never sat or wept or prayed with a faithful spouse or fulfilled couple who regretted having established and respected marital boundaries. Guardrails don't inhibit happiness; they lead to and protect happiness.
The prudent recognize the dangerous threats of the modern world to their marriages and hide themselves behind boundaries of wisdom and mutual respect.
The simple scoff. "It'll never happen to me." "No one's gonna tell me what to do." "If my wife doesn't like it, she can get over it." "That part of my life is none of my husband's business." The simple scoff and go on, but they and their marriages eventually suffer for it.
In no uncertain terms, the Spirit of God tells husbands to love their wives as themselves (Eph 5:33). Love your wives as Christ loved the church and gave himself up for her (Eph 5:25). Live with your wives in an understanding way, showing honor to them (1 Pet 3:7).
With equally clear expectations, the Spirit tells wives to respect their husbands (Eph 5:33). From the dawn of humanity the Creator's intention has been that wives would be helpers fit for their husbands (Gen 2:20). "An excellent wife who can find? She is far more precious than jewels. The heart of her husband trusts in her, and he will have no lack of gain. She does him good, and not harm, all the days of her life" (Prov 31:10-12).
Minds that are brought into orbit with self-sacrificial love recognize the danger that can come from flirting with the faintest hints of temptation. Affections centered on mutual respect motivate men and women to establish boundaries of the heart that will signal red flags of warning long before infidelity has the opportunity to become a reality. Here are some practical safeguards to consider.
IN PERSON
The prudent sees danger and deliberately avoids being alone with a member of the opposite sex. Period. In an office. In a car. In a hotel room. Anywhere. If a member of the opposite sex requests a meeting, intentionally involve your spouse or another person. If an unexpected situation arises, immediately let your spouse know about it, remove yourself as quickly as possible from the situation, and contact your spouse again to let them know exactly what happened. Don't follow in the naïve footsteps of the "simple" young man who "lacked sense" in Proverbs 7.
TEXTING
"I started texting her for work, and it grew from there." "We started flirting with each other via text. It seemed innocent at first." "Our texts started out as business, then turned personal, then got inappropriate."
The prudent sees danger and deliberately establishes boundaries…
When sending or receiving a text from a certain person causes an emotional reaction in her mind. She must be honest with herself!
When he or the woman he is texting starts sharing personal feelings or emotions.
When she or the man she is texting compliments the other on a physical level.
Any time he sends or receives a text he wouldn't want to read out loud to his wife… and he's tempted to hide it.
Any time she sends or receives a text that is flirtatious or sexual in nature.
Any time he is texting someone outside of the context of work more than he is texting his wife.
When she feels like sharing frustrations or unmet expectations with someone of the opposite sex about her own marriage.
When he feels like sending a text to a woman that compares that woman with his wife.
When she receives a text that compares her with another man's wife.
Husbands who are serious about showing honor to their wives give unfiltered, honest access of their text messages to their wives. The heart of a husband completely trusts a wife who has nothing to hide when it comes to her smartphone. Self-sacrificial love isn't afraid of accountability. Mutual respect welcomes and rewards transparency.
ONLINE
The prudent sees danger and deliberately avoids being one person "in the flesh" and another person in cyberspace.
Be mindful and careful about the time you spend staring at screens. A great many marriages are slowly eroding because more and more time and attention is spent making digital connections with others, while less and less time and attention is devoted to nurturing the most important human relationship of all. Love and respect for your spouse involves learning when to turn your connection to the Internet off.
Never, ever, ever hide things from your spouse online. Ever. "Deceit is in the heart of those who devise evil" (Prov 12:20). Don't even start down that path.
Freely share all online passwords with your spouse. If not, why not?
Never befriend anyone of the opposite sex online that your spouse is uncomfortable with. What is easily chalked up to "jealousy" by a defensive spouse is more often than not a genuine intuition that ought to be heeded. Be "open to reason" (Jam 3:17), especially when it's the reasoning of your husband or wife.
Immediately unfriend anyone who crosses healthy, godly boundaries. What you keep as one more Facebook friend isn't worth what you can lose via the slow erosion of trust.
If you're married, PROUDLY set your online "relationship status" to "married." Then act like it.
If you're frequently and feverishly covering your digital tracks, ask yourself, "Why?"  Having walked with integrity throughout the day, what a blessing it is for a man or woman to be able to say, "In peace I will both lie down and sleep; for you alone, O LORD, make me dwell in safety" (Psa 4:8).
Think, think, think before you post. "Whoever restrains his lips (or his keyboard, or her texting thumbs) is prudent" (Prov 10:19).
Realize that some people from your past shouldn't be reconnected with. Just because it's easy and convenient in the digital age and you were invited doesn't mean it will be wise or helpful to your marriage to accept the friend request of someone whose manner of life reflects blatant disregard for God. Don't damage the present and sacrifice the future of your marriage in order to explore or relive the foolishness of your past.
No matter how many "friends" you have online, remember that your #1 friend should always be your spouse. The most effective way to counteract infidelity is to be intentional about nurturing your most precious human relationship.
No couple, in the last ten minutes of their married lives together, will wish they had spent more time online, staring at a phone, or apart from one another. Marriage is a blessing and life is a gift. Make the most of both today.
What about you? What practical boundaries would you add to the list? Let us know in the comments section below.