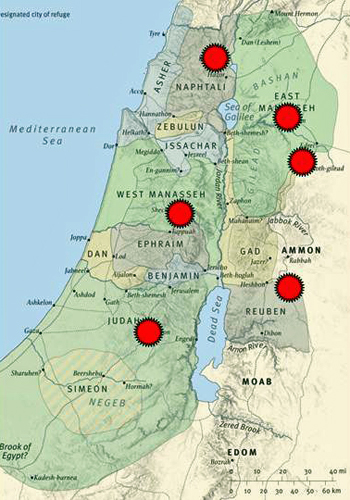 Hebrews 6 contains powerful assurances about the promises of God.
So when God desired to show more convincingly to the heirs of the promise the unchangeable character of his purpose, he guaranteed it with an oath, so that by two unchangeable things, in which it is impossible for God to lie, we who have fled for refuge might have strong encouragement to hold fast to the hope set before us. We have this as a sure and steadfast anchor of the soul, a hope that enters into the inner place behind the curtain, where Jesus has gone as a forerunner on our behalf, having become a high priest forever after the order of Melchizedek. (Heb 6:17-20)
Our appreciation of Hebrews 6:18 is dramatically enhanced when we grasp the ancient Jewish context of "fleeing for refuge" (Num 35:9-34). In Joshua 20, Joshua obeyed the LORD and set apart six "cities of refuge," the very names of which had powerful meanings for the refugee:
Kedesh ("holy")
Shechem ("shoulder")
Hebron ("friend")
Bezer ("fortress")
Ramoth ("height")
Golan ("complete")
Through Moses and Joshua, the LORD clearly outlined his expectations for these cities:
They were to be easily accessible (Num 35:14).
The way was to be made readily known (Deut 19:3).
They were to be available to every inhabitant of the land (Jos 20:9).
They were to be well supplied with provisions for survival (Num 35:15).
The gates were to be always open (Jos 20:4).
The boundaries of the city were to be respected (Num 35:26-28).
The death of the high priest would bring freedom (Num 35:28).
When the writer of Hebrews describes Christians as those "who have fled for refuge," it is a powerful idea with deep Old Testament roots. This sermon seeks to enhance our appreciation of those God-breathed roots. It was delivered on March 18, 2012.