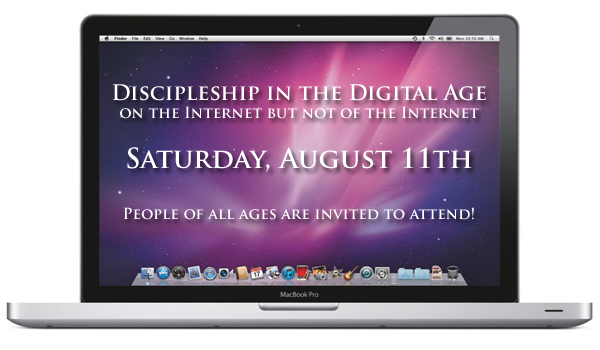 How can we be disciples of Jesus in the digital age? How can we be "on the Internet," but not "of the Internet"? You're invited to join us on Saturday, August 11 as Jason Hardin and Wiley Deason present lessons for all ages on discipleship in the digital age.
FRIDAY, August 10th  |  7:00 PM – SINGING
SATURDAY, August 11th (lessons presented by Jason Hardin and Wiley Deason)
10:00 am — The Digital Age: Its Virtues, Vanities, and Dangers [Hardin]
11:00 am — The Servant or the Master? Keeping Technology in its Place [Deason]
1:15 pm — Digital Masks: Acting Like One Person Online and Another in Reality [Deason]
2:15 pm — SEPARATE SESSIONS

PRE-TEENS & TEENS — Salt and LIKE: Before You Click or Type or Text… [Deason]
ADULTS — Walk in Wisdom: Technology's Impact on Marriage, Parenting, and Everyday Adult Life [Hardin]

3:15 pm — Whether You Facebook or Tweet, or Whatever You Blog: Doing It All to the Glory of God [Hardin]
PEOPLE OF ALL AGES ARE INVITED TO ATTEND!
at the meeting place of the Laurel Canyon church of Christ
409 McNaughten Road
Columbus, OH 43213
614-868-1375   |   www.LCCOC.net