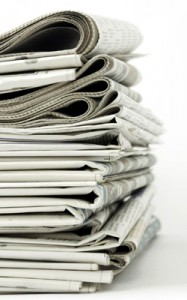 Before Birth, Dad's ID, The New York Times (6/20/12)
It is an uncomfortable question that, in today's world, is often asked by expectant mothers who had more than one male partner at the time they became pregnant. Who is the father?

With more than half of births to women under 30 now out of wedlock, it is a question that may arise more often.

Now blood tests are becoming available that can determine paternity as early as the eighth or ninth week of pregnancy, without an invasive procedure that could cause a miscarriage.

Besides relieving anxiety, the test results might allow women to terminate a pregnancy if the preferred man is not the father — or to continue it if he is.
When I read those words, I thought of God's strong words to Israel in Ezekiel 16:35-38.
"Therefore, O prostitute, hear the word of the LORD: Thus says the Lord GOD, Because your lust was poured out and your nakedness uncovered in your whorings with your lovers, and with all your abominable idols, and because of the blood of your children that you gave to them, therefore, behold, I will gather all your lovers with whom you took pleasure, all those you loved and all those you hated. I will gather them against you from every side and will uncover your nakedness to them, that they may see all your nakedness. And I will judge you as women who commit adultery and shed blood are judged, and bring upon you the blood of wrath and jealousy."