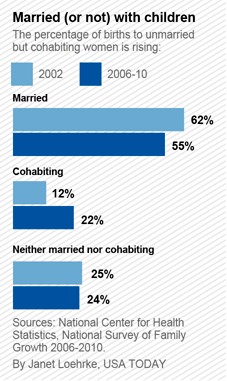 USA Today released a report this morning (4/12/12) reflecting dramatic increases since 2002 in births to cohabiting women.
The percentage of first births to women living with a male partner jumped from 12% in 2002 to 22% in 2006-10 — an 83% increase. The percentage of cohabiting new fathers rose from 18% to 25%. The analysis, by the National Center for Health Statistics, is based on data collected from 2006 to 2010.

"We were a little surprised in such a short time period to see these increases," says demographer Gladys Martinez, lead author of the report, based on face-to-face interviews with 12,279 women and 10,403 men ages 15-44.

The percentage of first births to cohabiting women tripled from 9% in 1985 to 27% for births from 2003 to 2010.

Karen Benjamin Guzzo, a sociologist at Bowling Green State University in Bowling Green, Ohio, who studies cohabitation and fertility, says she thinks the big jump since 2002 is likely because of the recession, which was at its height from late 2007 to 2009, right in the middle of the federal data collection.

"I think it's economic shock," she says. "Marriage is an achievement that you enter into when you're ready. But in the meantime, life happens. You form relationships. You have sex. You get pregnant. In a perfect world, they would prefer to be married, but where the economy is now, they're not going to be able to get married, and they don't want to wait to have kids."
Coincidentally, a friend passed along another study from Glenn Stanton, the director of family formation studies at Focus on the Family entitled What's the Deal with Cohabitation? A Survey of This Decade's Leading Research. It's worth reading and filing away.
Admittedly we do not live in a "perfect world." We encounter economic shocks, life hiccups, relationship hurdles, sexual temptations, and the serious consequences of our own sinful choices. But marriage is so much more than a human "achievement that you enter into when you're ready." Marriage was designed, blessed and regulated by God.
Yes, life happens. "All flesh is like grass and all its glory like the flower of grass. The grass withers, and the flower falls, but the word of the Lord remains forever" (1 Pet 1:24-25). His will regarding marriage is just as current as today's edition of USA  Today.
Let marriage be held in honor among all, and let the marriage bed be undefiled, for God will judge the sexually immoral and adulterous. (Heb 13:4)