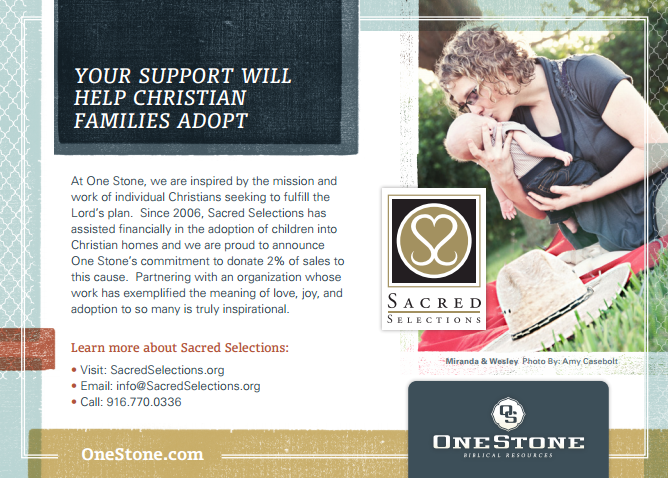 I've made a couple recent posts introducing you to One Stone, a new independent retailer of conservative Biblical resources. Today I wanted to highlight a unique and exciting partnership between One Stone and Sacred Selections, a non-profit foundation committed to financially assisting Christian couples in the adoption process.
To date, Sacred Selections has assisted financially in the adoption of more than 40 children into Christian homes around the world. The service was founded by a couple from California who wanted to help patients realize that adoption is always an option. One of the many things that makes Sacred Selections unique is that donations are accepted only from individuals (not churches) and 100% of the donations received are used to fund adoptions. All administrative expenses are covered voluntarily by the members of the board.
One Stone has committed to donating 2% of all sales straight to this worthy cause. Also, at checkout, they offer the opportunity to make a donation directly to Sacred Selections via the One Stone website.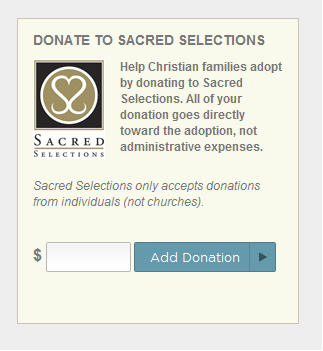 Like many of us, you may not be able to write a huge check to an organization like Sacred Selections. But the next time you're purchasing a Bible, workbook or devotional, remember that placing your order through One Stone will help bring a Christian family and a baby in need of adoption a little closer together.
For more information and ongoing updates, be sure to check out One Stone and Sacred Selections on Facebook.