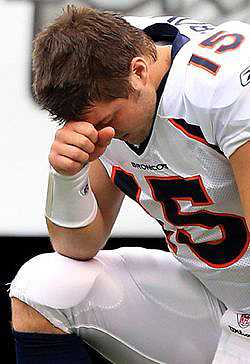 Regardless of how you feel about Tim Tebow, the Denver Broncos, or sports in general, Tebow's response to Jake Plummer today (featured across the national news outlets) is worthy of note and admiration.
Plummer (former Broncos QB) on Monday (11/21):
"Tebow, regardless of whether I wish he'd just shut up after a game and go hug his teammates, I think he's a winner and I respect that about him. I think that when he accepts the fact that we know that he loves Jesus Christ, then I think I'll like him a little better. I don't hate him because of that, I just would rather not have to hear that every single time he takes a good snap or makes a good handoff.

"Like you know, I understand dude where you're coming from … but he is a baller."
Tebow's response on Tuesday (11/22):
"If you're married, and you have a wife, and you really love your wife, is it good enough to only say to your wife 'I love her' the day you get married? Or should you tell her every single day when you wake up and every opportunity?

"And that's how I feel about my relationship with Jesus Christ is that it is the most important thing in my life. So any time I get an opportunity to tell him that I love him or given an opportunity to shout him out on national TV, I'm gonna take that opportunity. And so I look at it as a relationship that I have with him that I want to give him the honor and glory anytime I have the opportunity. And then right after I give him the honor and glory, I always try to give my teammates the honor and glory.

"And that's how it works because Christ comes first in my life, and then my family, and then my teammates. I respect Jake's opinion, and I really appreciate his compliment of calling me a winner. But I feel like anytime I get the opportunity to give the Lord some praise, he is due for it."
Opportunity. Six times Tebow used the word.
I've had those opportunities today. So have you. Lord willing, we'll have them tomorrow. And the next day.
What will we do with those opportunities?