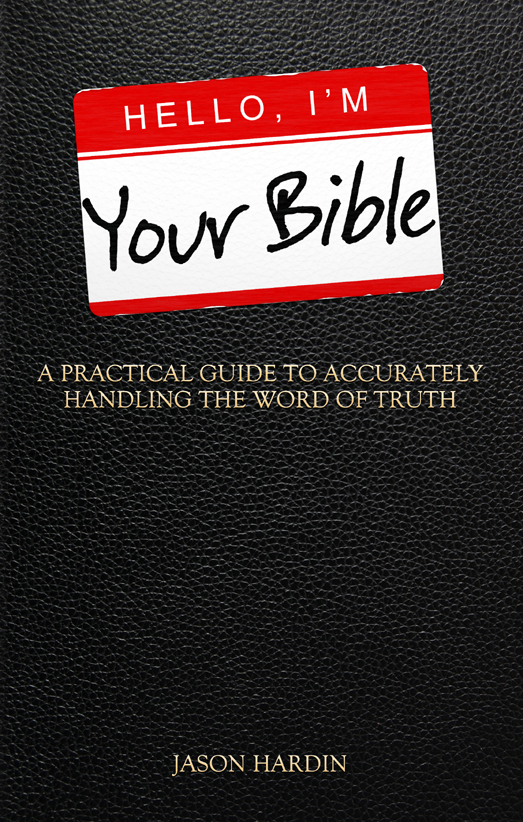 From Chapter 1 of Hello, I'm Your Bible:
In Psalm 16.11, David wrote of God, "You make known to me the path of life; in your presence there is fullness of joy; at your right hand are pleasures forevermore." There is a God. He is alive. In him we live and survive. From dust our God created man. He is our God, the great I AM. In Ephesians 1:3-6, the apostle Paul wrote,
Blessed be the God and Father of our Lord Jesus Christ, who has blessed us in Christ with every spiritual blessing in the heavenly places, even as he chose us in him before the foundation of the world, that we should be holy and blameless before him. In love he predestined us for adoption as sons through Jesus Christ, according to the purpose of his will, to the praise of his glorious grace, with which he has blessed us in the Beloved.
This Creator-God had a plan before he ever laid the foundation of the world. His plan involved us—human beings whom he created in his image (Gen 1:27). His will for us is that we would be holy and blameless, as he is holy and blameless (1 Pet 1:14-16). In love he determined to make a way available, despite our rebellion against him, whereby we could be adopted as sons and daughters into his family through the sacrifice of his own Son, Jesus the Christ.
You were dead in the trespasses and sins in which you once walked, following the course of this world, following the prince of the power of the air, the spirit that is now at work in the sons of disobedience—among whom we all once lived in the passions of our flesh, carrying out the desires of the body and the mind, and were by nature children of wrath, like the rest of mankind. But God, being rich in mercy, because of the great love with which he loved us, even when we were dead in our trespasses, made us alive together with Christ—by grace you have been saved—and raised us up with him and seated us with him in the heavenly places in Christ Jesus, so that in the coming ages he might show the immeasurable riches of his grace in kindness toward us in Christ Jesus. For by grace you have been saved through faith. And this is not your own doing; it is the gift of God, not a result of works, so that no one may boast. For we are his workmanship, created in Christ Jesus for good works, which God prepared beforehand, that we should walk in them. (Eph 2:1-10)
I exist for the praise of God's glorious grace. You exist for the praise of God's glorious grace. He desires a relationship with each of us. He makes known to us the path of life. In his presence there is fullness of joy. At his right hand are pleasures forevermore.
God's Revelation of Himself to Mankind
God has powerfully revealed his magnificence to mankind via the creation of all things. Rebellious human beings ought to fearfully take note at each rising and setting of the sun.
For the wrath of God is revealed from heaven against all ungodliness and unrighteousness of men, who by their unrighteousness suppress the truth. For what can be known about God is plain to them, because God has shown it to them. For his invisible attributes, namely, his eternal power and divine nature, have been clearly perceived, ever since the creation of the world, in the things that have been made. So they are without excuse. (Rom 1:18-20)
As David poetically put it in Psalm 19:1-2,
____________ The heavens declare the glory of God,
_________________ and the sky above proclaims his handiwork.
____________ Day to day pours out speech,
_________________ and night to night reveals knowledge.
And yet, the physical creation around us can only tell us so much. There is a God who has created all things, but who is he? What's he like? What about his character? Does he have any expectations of us? And how can we know if or when we've met them? Are there consequences for disobedience? Rewards for compliance? Is there a story and meaning behind our origin? Why are we here? What's life on this earth all about? What happens after we die?
The apostle Paul preached to the inhabitants of first-century Athens,
"The God who made the world and everything in it, being Lord of heaven and earth, does not live in temples made by man, nor is he served by human hands, as though he needed anything, since he himself gives to all mankind life and breath and everything. And he made from one man every nation of mankind to live on all the face of the earth, having determined allotted periods and the boundaries of their dwelling place, that they should seek God, in the hope that they might feel their way toward him and find him. Yet he is actually not far from each one of us, for 'In him we live and move and have our being'; as even some of your own poets have said, 'For we are indeed his offspring.'" (Acts 17:24-28)
Paul did a great deal of preaching, from Jerusalem to Rome. But he is remembered most of all for what he wrote—thirteen books of what we refer to as the New Testament of the Bible.
There is a God. He is alive. "By the word of the LORD the heavens were made, and by the breath of his mouth all their host" (Psa 33:6), but he has also provided a written revelation for all mankind—the means by which we can come to know him, follow him, and eventually live with him after death. "Your word," the psalmist wrote, "is a lamp to my feet and a light to my path" (Psa 119:105). The BIBLE could accurately be described as Basic Instructions Before Leaving Earth.
---
Interested in winning a FREE copy or a $25 Amazon gift card? Click here for more info.