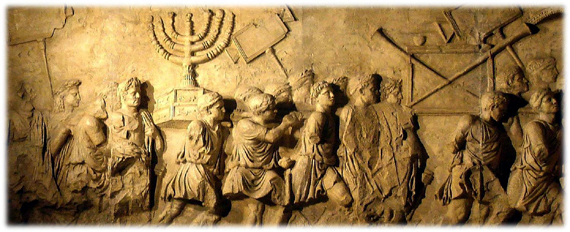 The destruction of Jerusalem by the Romans in A.D. 70 was a terrible event in the history of the Jews. In Matthew 24:1-2, four decades prior to the Roman siege, Jesus Christ foretold dark days to come on the descendants of Abraham as a result of their rejection of the Messiah.
Jesus left the temple and was going away, when his disciples came to point out to him the buildings of the temple. But he answered them, "You see all these, do you not? Truly, I say to you, there will not be left here one stone upon another that will not be thrown down."
Undoubtedly, what occurred in A.D. 70 was a great and terrible "coming of the Lord" in judgment. But we must be careful not to ascribe too much weight to what occurred in those days. "Realized Eschatology" or "The A.D. 70 Theory" is a complex series of assertions that the second coming of Christ, the resurrection of the dead, the end of the world, and the judgment all occurred in A.D. 70 at the destruction of Jerusalem. It is, in a number of extraordinary ways, a modern manifestation of Paul's warning to Timothy in 2 Timothy 2:14-19:
Remind them of these things, and charge them before God not to quarrel about words, which does no good, but only ruins the hearers. Do your best to present yourself to God as one approved, a worker who has no need to be ashamed, rightly handling the word of truth. But avoid irreverent babble, for it will lead people into more and more ungodliness, and their talk will spread like gangrene. Among them are Hymenaeus and Philetus, who have swerved from the truth, saying that the resurrection has already happened. They are upsetting the faith of some. But God's firm foundation stands, bearing this seal: "The Lord knows those who are his," and, "Let everyone who names the name of the Lord depart from iniquity."
This 4-part series of sermons investigates the A.D. 70 Theory and calls for careful consideration of its disastrous consequences.
WHAT EXACTLY IS THE A.D. 70 THEORY?
THE MESSIAH'S MESSAGE IN MATTHEW 24
THE END OF THE WORLD
IF THE END HAS ALREADY OCCURRED…
For more sermon outlines and recordings, be sure to visit the Sermons archive.