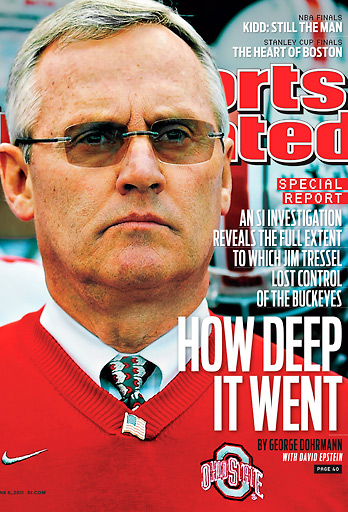 Living in the epicenter of Buckeye Nation, I can confidently report that today is a day of mourning, second-guessing and vehement rants around Columbus. Ohio State football reigns as King in this part of the country and the program has been rocked with scandal.
Much could be said, but here's the only two-cents I'll throw into this particular pot.
Earthly heroes let us down. They disappoint us. They are self-seeking sinners. Just like you. Just like me. That's true of sports heroes across all conferences and leagues, politicians of every party, every spouse, every child, and any other human being that could be categorized or listed. Earthly heroes let us down.
And because they let us down, they are not worthy of our worship.
Sports are not inherently sinful. But neither are they ultimate. And when we idolatrously exalt them as ultimate, we are bound to experience seasons of disappointment, disillusionment and depression.
Millions worship sports.
But only One is worthy of our worship.
Only One is perfectly Faithful and flawlessly True (Rev 19:11).
He alone is worthy of my worship.
The assemblies of his church are the greatest gatherings to be experienced on this side of eternity.
The message of his accomplishments and offer of grace to humanity is the greatest news I can possibly share with the people around me.
I can confidently proclaim that he is faithful. He is true. He knows what he is doing. He has never made a mistake, and he never will. I can trust him with my very soul and know that he will never let me down.
Why, then, would my heart's allegiance be pledged in any other direction? Why would I set my affections on anything or anyone other than him? Why would I cling to anyone else as the fountain of my joy and the foundation of my future?
He alone is worthy of my worship. But am I treating him as such?