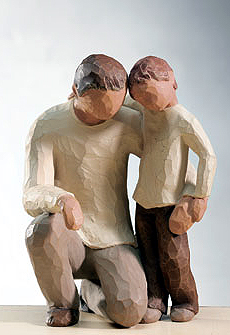 Psalm 40 is a psalm of David with two distinct parts:
Thanksgiving for God's deliverance and provision in the past (40:1-10)
A heartfelt expression of need for God's intervention in the present (40:11-17)
While the entire psalm is obviously valuable, I was particularly struck by Psalm 40:1 last night.
____ I waited patiently for the LORD;
_______ he inclined to me and heard my cry.
Marvel with me at the fact that the Creator of the universe heard the cry of an ordinary human being and inclined himself—literally, God "bent toward" David.
Far too often, my children try to get my attention and I am disinclined to focus on them entirely. I'm busy. I'm preoccupied. I've got a deadline. And sometimes, I let them down.
How remarkable that our Father in heaven not only hears, not only cares, but willingly bends himself toward the cries of his children.
____________ Blessed is the man who makes
_______________ the LORD his trust. (Psa 40:4)