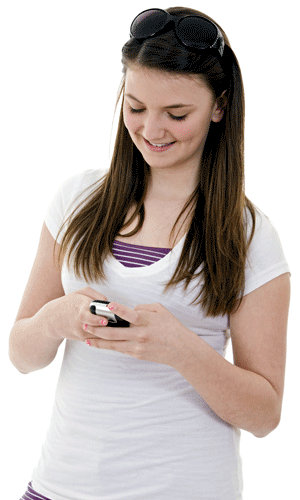 On March 26, 2011, The New York Times published this extremely disturbing story:
One day last winter Margarite posed naked before her bathroom mirror, held up her cellphone and took a picture. Then she sent the full-length frontal photo to Isaiah, her new boyfriend.

Both were in eighth grade.

They broke up soon after. A few weeks later, Isaiah forwarded the photo to another eighth-grade girl, once a friend of Margarite's. Around 11 o'clock at night, that girl slapped a text message on it.

"Ho Alert!" she typed. "If you think this girl is a whore, then text this to all your friends." Then she clicked open the long list of contacts on her phone and pressed "send."

In less than 24 hours, the effect was as if Margarite, 14, had sauntered naked down the hallways of the four middle schools in this racially and economically diverse suburb of the state capital, Olympia. Hundreds, possibly thousands, of students had received her photo and forwarded it.

In short order, students would be handcuffed and humiliated, parents mortified and lessons learned at a harsh cost. Only then would the community try to turn the fiasco into an opportunity to educate.

Around the country, law enforcement officials and educators are struggling with how to confront minors who "sext," an imprecise term that refers to sending sexual photos, videos or texts from one cellphone to another.

But adults face a hard truth. For teenagers, who have ready access to technology and are growing up in a culture that celebrates body flaunting, sexting is laughably easy, unremarkable and even compelling: the primary reason teenagers sext is to look cool and sexy to someone they find attractive.
According to one recent study:
How many teens say they have sent/posted nude or seminude pictures or video of themselves?

20% of teens overall
22% of teen girls
18% of teen boys
11% of young teen girls (ages 13-16)

How many teens are sending or posting sexually suggestive messages?

39% of all teens
37% of teen girls
40% of teen boys
48% of teens say they have received such messages
Young person, how you use your cell phone matters. To your friends, to your parents, and most of all, to God.
Among you there must not be even a hint of sexual immorality, or of any kind of impurity, or of greed, because these are improper for God's holy people. (Eph 5:3, NIV)
Parents, we have an eternally serious responsibility.
"You shall therefore lay up these words of mine in your heart and in your soul, and you shall bind them as a sign on your hand, and they shall be as frontlets between your eyes. You shall teach them to your children, talking of them when you are sitting in your house, and when you are walking by the way, and when you lie down, and when you rise." (Deut 11:18-19)
We cannot afford ignorance or negligence when it comes to our children, technology, and the perversions of our sexually-charged culture. In the spirit of Matthew 10:16, we are tasked with leading our children "as sheep in the midst of wolves." Therefore, we must "be wise as serpents and innocent as doves."
Fathers, we have been specifically charged by God as watchman to guard and nurture purity in our daughters and integrity in our sons (Eph 6:4). Granting your children unmonitored, unfiltered, unaccountable access to technology is like letting a python loose in your house and hoping it doesn't hurt anyone. Products are readily available to help you guard your home.
Christians, we are not immune.
Keep your heart with all vigilance, for from it flow the springs of life. (Prov 4:23)