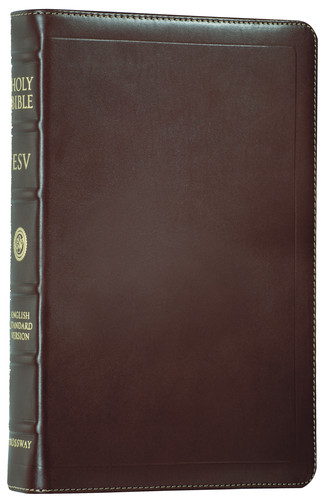 It arrived a little later than expected, but it's worth it.
Back in November, my wife pre-ordered an ESV Personal Size Reference Bible
with a lambskin cover, intending to give it to me as a gift in December … it arrived on March 29th. Crossway had some unexpected delays in production, but this brand new edition is finally available.
I've never owned a Bible with a lambskin cover. Wow. It's nice. The Personal Size Reference is the edition of the ESV I've used for several years in preaching and teaching classes. And one of the nicest features from Crossway? A lifetime guarantee. This is an expensive edition, but the binding and cover are guaranteed for life. For preachers and teachers, that makes for a great investment.
Click here for more info on the ESV Personal Size Reference Bible with a lambskin cover.
On a side note, every once in a while I'm asked about "breaking in" new Bibles. I ran across this technique several years ago that's recommended by Oxford University Press. Their leather-bound Bibles come with a little card that explain how to break in a Bible properly.
First, make sure the Bible is at room temperature. Place the Bible perpendicular to a table with the spine on the table and the front edge in the air. Let the front and back cover open while still holding the pages with one hand. Press the cover gently to the table, helping it to open fully. Next, you need to take a few pages from the front of the Bible, open them and gently press them to the front cover. Do the same for the back of the Bible. Continue alternating between the front and back of the Bible until you have the whole Bible open flat on the table. Finally, repeat these instructions two or three times.