Drive west on East Broad Street through Griffin, Georgia and you'll see a prominent sign. It's hanging above the street 24-hours per day, 7-days per week for a simple but important reason. If you hit the bright yellow sign and keep driving, you're inevitably going to hit the bridge behind the sign.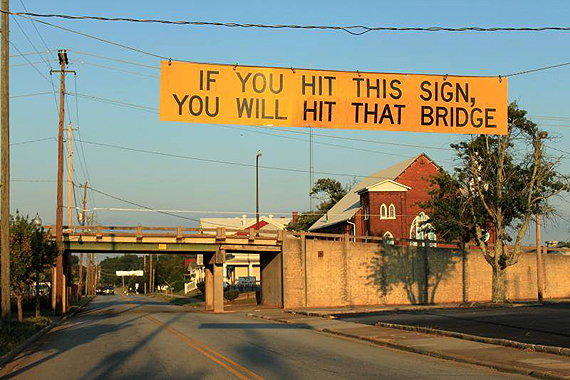 "If, then." We use the simple principle of cause-and-effect every day of our lives.  It's what the Bible refers to as  discernment.
I appeal to you therefore, brothers, by the mercies of God, to present your bodies as a living sacrifice, holy and acceptable to God, which is your spiritual worship. Do not be conformed to this world, but be transformed by the renewal of your mind, that by testing you may discern what is the will of God, what is good and acceptable and perfect. (Rom 12:1-2)
To discern is "to perceive by the sight or some other sense; to recognize or apprehend; to distinguish mentally; to recognize the true value of a thing or opportunity."  Living a God-centered, Christ-saturated, Spirit-led life begins with my willingness to discern.
Look carefully then how you walk, not as unwise but as wise, making the best use of the time, because the days are evil.   Therefore do not be foolish, but understand what the will of the Lord is.  (Ephesians 5:15-17)
This sermon is all about discerning God's will for our lives.
For more sermon outlines and recordings, be sure to visit the Sermons archive.