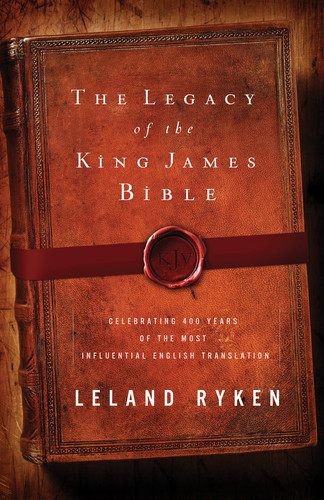 I've been doing a lot of apologetics/evidences research lately for a Frequently Asked Questions class I'm teaching at Laurel Canyon.  Seems like people always have questions about the origins of the Bible and how it came to exist in English.
This year is the 400th anniversary of the King James Bible's publication.  I imagine there will be several books published in 2011 to commemorate the anniversary, but this is the first one I've seen so far.  Leland Ryken, professor of English at Wheaton College, has a new book entitled The Legacy of the King James Bible: Celebrating 400 Years of the Most Influential English Translation, scheduled for release on January 31, 2011.
Originally published in 1611, the King James Bible (KJB) remains the most recognizable piece of literature in the English-speaking world today. For over three centuries, it served as  the standard English Bible and has, as such, exerted unparalleled influence on English and American culture in nearly every sphere—including education, law, literature, government, art, science, and religion.

The Legacy of the King James Bible honors the 400th anniversary of the KJB's publication by telling its story—a drama that starts with the pioneering work of William Tyndale and progresses through half a dozen other popular translations.  Leland Ryken, an expert on the Bible as literature, explores the excellence of the King James Bible by examining its status as the climax of a century of English Bible translations, its impression on the subsequent history of Bible translation, its inherent literary excellence, and its overall impact on English and American literature and culture.  The Legacy of the King James Bible will shed new light on the depth of the translation's merit and influence and offer insight as to what its role may be in the next 400 years.