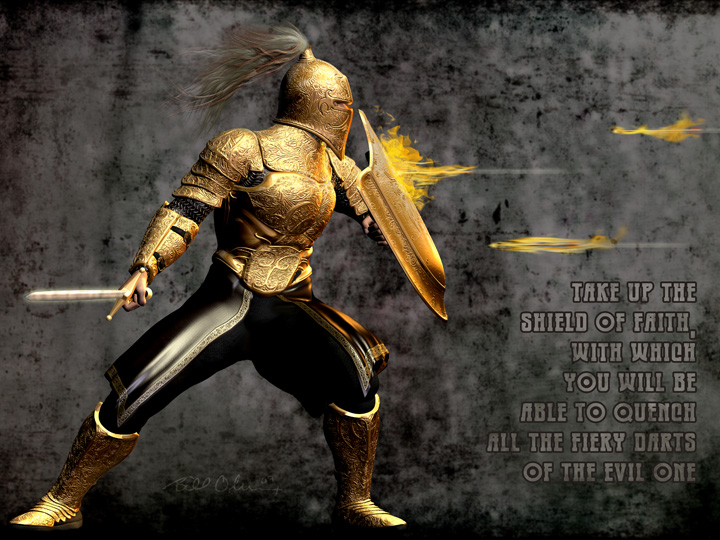 "Then Jesus was led by the Spirit into the wilderness to be tempted by the devil" (Matt 4:1).
"If you are the Son of God, command these stones to become loaves of bread" (4:4).  Jesus' response was a reference to Deuteronomy 8:3.
"If you are the Son of God, throw yourself down…" (4:6).  Jesus' response was a reference to Deuteronomy 6:16.
"All these I will give you, if you will fall down and worship me" (4:9).  Jesus' response was a reference to Deuteronomy 6.13.
His battle plan against temptation isn't hard to pick out, is it?  The flaming  darts of the evil one (Eph 6.16) were met and defeated by the Son of God with words of truth.  God-breathed Scripture and a ready mind of compliance were Jesus' first line of defense.
The same strategy has been passed on to you and me.  War is upon us whether we  would risk it or not.  Temptations will come whether we seek them or not.  When they do, the  only question is whether the Scriptures will have been wrapped around our hearts to the point  that our knowledge of the Creator's intentions will shape our first responses.  Or, will we allow  the tempter's seductions to lead us away from the ranks of the redeemed?  Satan cannot take  God's truth away from you, but you can decide to remove it from your  thinking.
"We do not want you to be uninformed, brothers" (1 Thes 4.13), because being  uninformed can cost us everything.  Absolute truth has been made freely available by our holy  Creator.  "Submit yourselves therefore to God. Resist the devil and he will flee from you" (James 4:7), because darkness cannot withstand the light and the deceiver cannot withstand the truth.
__________
How can a young man keep his way pure?
_________________
By guarding it according to your word
.
__________
With my whole heart I seek you;
_________________
let me not wander from your commandments!
__________
I have stored up your word in my heart,
_________________
that I might not sin against you.
__________
Blessed are you, O LORD;
_________________
teach me your statutes!
__________
With my lips I declare
_________________
all the rules of your mouth.
__________
In the way of your testimonies I delight
_________________
as much as in all riches.
__________
I will meditate on your precepts
_________________
and fix my eyes on your ways.
__________
I will delight in your statutes;
_________________
I will not forget your word. (Psalm 119.9-16)
What passages of Scripture do you call to mind as a first line of defense against temptation? What God-breathed words have you stored up in your heart to help in those moments of unholy seduction?  When the going gets tough, what precepts of God do you find yourself meditating upon?