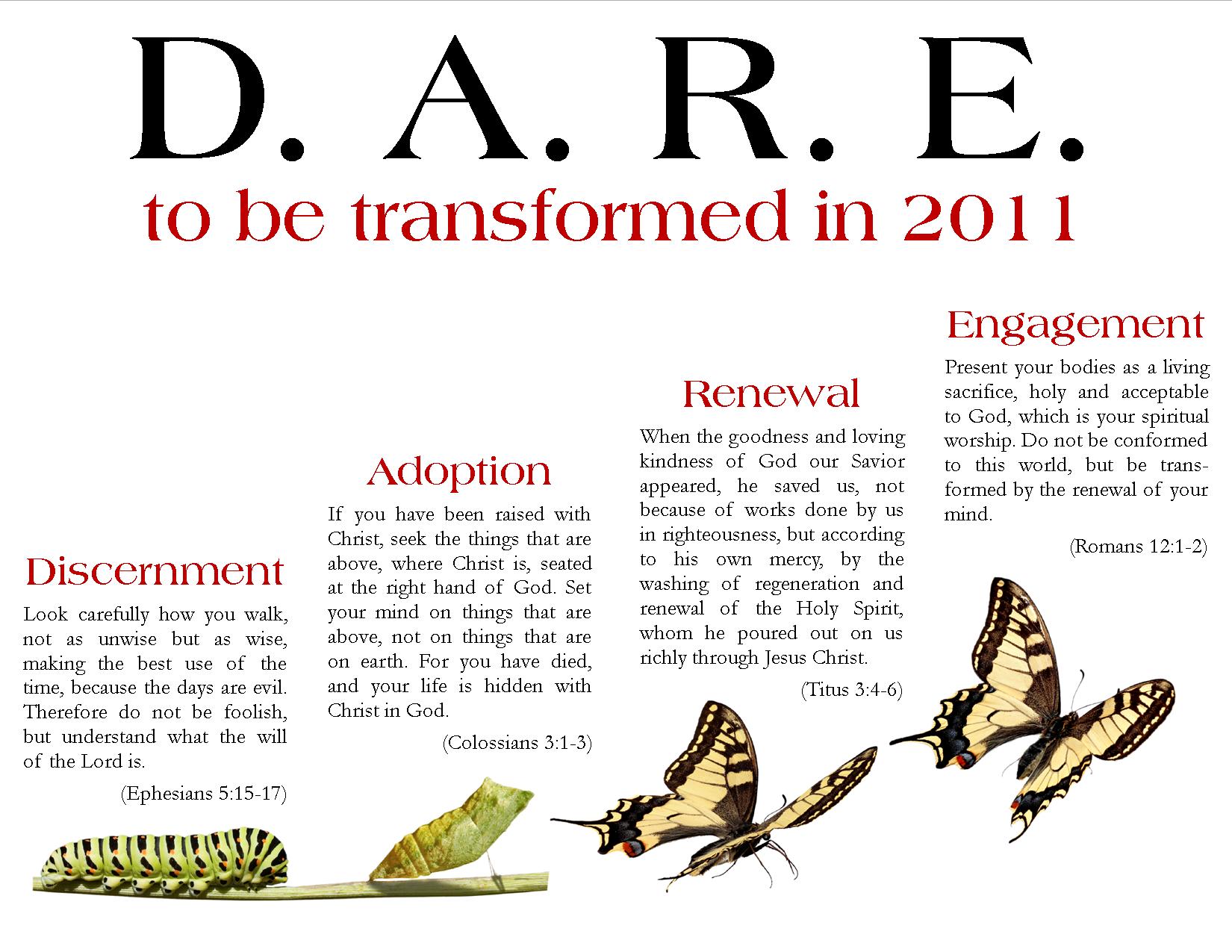 In a series of posts last week, I emphasized that real transformation is possible in 2011. You  can lead a  Romans 12 kind of life, for your lasting joy and for God's eternal glory. You  can be everything God created you to be, if you put  D.A.R.E. into wholehearted practice:
This week, I'd like to share with you some of the practical ways we've encouraged the disciples at Laurel Canyon to ENGAGE the world around them in 2011.  First up, experienced disciples of Christ.
---
Engaging as an Experienced Disciple

"I have been crucified with Christ. It is no longer I who live,  but Christ who lives in me."
What can you add, as an experienced follower of Jesus, to this family of believers so that we can grow together to God's glory?
Set the believers an example in speech, conduct, love, faith, and purity (1 Tim 4:12).
Cultivate eyes to see and ears to hear what is going on in the lives of the weak and ailing around you (Heb 12:12-14).
In humility count the needs and interests of others as more significant than your own (Phil 2:3-4; Eph 2:10).

the infants in Christ among us (Rom 15:1-2)
visitors to our assemblies (Jam 2:1-13)
elderly Christians who could use help (1 Thes 5:14).
those who are sick and shut-in (2 Cor 1:3-4).
those who are grieving (Rom 12:15).

Use your home as a center of hospitality (1 Pet 4:8-9).
Be a prayer warrior (Jam 5:13-18).
Be a "son" or "daughter of encouragement" to:

our overseers (Heb 13:17;  1 Thes 5:12-13).
our deacons (1 Cor 16:17-18).
those who preach the gospel (1 Thes 5:25).
those who lead in our assemblies (1 Thes 5:11).
our Bible class teachers (Eph 4:11-12).
those who are unfaithful to God (Jam 5:19-20).

Joyfully contribute, as you may prosper, to the work of the church (1 Cor 16:1-2).
Are you an experienced disciple of Jesus?  Engage the world around you this week for the glory of God!  "Present your body as a living sacrifice, holy and acceptable to God, which is your spiritual worship" (Rom 12:1).