Excerpted from Chapter 13 of Boot Camp: Equipping Men with Integrity for Spiritual Warfare: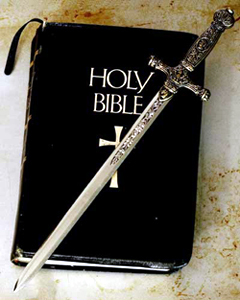 As we are guided into the last chamber of the Lord's armory, we are shown the only offensive weapon of the Lord's soldier—"the sword of the Spirit, which is the word of God" (Eph 6.17).   In fact, it is both offensive and defensive.   It contains the power to defend us against the devil's advances and the potency to force him into retreat.   King Jesus demonstrated for his subjects once and for all that when faced with the power of the word of God, the devil must flee.   In the light of truth, his words are proven to be lies and his methods are revealed as blasphemous.   "For the word of God is living and active, sharper than any two-edged sword, piercing to the division of soul and of spirit, of joints and of marrow, and discerning the thoughts and intentions of the heart" (Heb 4.12).
We have not been asked by our King to enter the battlefield armed with nothing more than our own reasoning and a reliance on our own wisdom.   It is only by taking up the sword of the Spirit that we will prevail.   It is only by abiding within the doctrine of Christ that we will be secure.
For though we walk in the flesh, we are not waging war according to the flesh.   For the weapons of our warfare are not of the flesh but have divine power to destroy strongholds.   We destroy arguments and every lofty opinion raised against the knowledge of God, and take every thought captive to obey Christ. (2 Cor 10.3-5)
It is God's word which destroys the arguments of presumptive men.   It is the sword of the Spirit that humbles the lofty opinions of the "wise."   It is the sharp dagger of truth that bears the divine energy to prick our guilty consciences, slaughter our self-righteousness, provoke godly sorrow, and spur us on to enslave every aspect of our beings in service to Christ.   "All Scripture is breathed out by God and profitable for teaching, for reproof, for correction, and for training in righteousness, that the man of God may be competent, equipped for every good work" (2 Tim 3.16-17).
The skilled swordsman who has courageously engaged the enemy and lived to fight another day knows his sword and how to use it.   He studies.   He practices.   He sharpens his skills long before the next battle ever takes place.   Imagine an ignorant and brash man who recklessly storms the battlefield.   Why is he ignorant?   His only familiarity with a sword is that he's heard other men talk of swords.   In what way is he brash?   He believes that since a sword has hung for years on his wall that he can suddenly pick one up and effectively use it to fight a war.   What a fool!   He very well may dismember himself or someone else before ever engaging the enemy.
And yet, how much more foolish is the man who has heard other men talk of God's word, has a copy of the Bible on a shelf at home, has described himself as a Christian for years, but has never learned to effectively use his sword in the service of his King?   Ignorance will not defeat the Tempter.   Error cannot destroy arguments.   Assumptions have little power in the face of tormenting trials.   We have no hope of victory if we fail to arm ourselves with truth.   The moment we leave God's word behind and begin relying upon our own wisdom and experience, we've doomed ourselves to destruction.   It's as if we throw away our sword and decide to fight the great red dragon with our bare hands.
The wise soldier of the cross humbly models Paul's instructions to young Timothy through the disciplines of study, meditation, and prayer.   "Do your best to present yourself to God as one approved, a worker who has no need to be ashamed, rightly handling the word of truth" (2 Tim 2.15).
(Boot Camp: Equipping Men with Integrity for Spiritual Warfare, pg. 227-229)
Other posts in this series on the armor of God: