Excerpted from Chapter 13 of Boot Camp: Equipping Men with Integrity for Spiritual Warfare: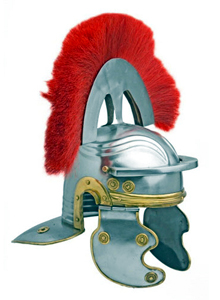 In the heat of hand-to-hand combat when soldiers fought with clubs, pieces of chain, swords, and axes, helmets that gave secure protection to the head were invaluable. Made of thick leather or brass and capped with plates of metal to cover the temples and forehead, ancient helmets were often ornately decorated with engravings and crowned with a plume or a crest that clearly identified who a soldier who and to whom his allegiance had been pledged.
The soldier who fights for the King of kings is instructed to "take the helmet of salvation" (Eph 6.17). Just as a helmet was accepted by a soldier from the hands of the officer in charge of supply and distribution, salvation is a gift. "For by grace you have been saved through faith. And this is not your own doing; it is the gift of God, not as a result of works, so that no one may boast" (Eph 2.8-9).
As citizens of the kingdom of heaven, we've been reconciled to God through the gift of his Son. We "who once were far off have been brought near by the blood of Christ" (Eph 2.13). The time has come, therefore, to take up the helmet of salvation and unashamedly declare our allegiance to the King. "For freedom Christ has set us free; stand firm therefore, and do not submit again to a yoke of slavery" (Gal 5.1). Turn your back on selfishness. Run away from the darkness of sexual immorality. Renounce idolatry. Reject jealousy and anger. Bridle your tongue and cast off hypocrisy. Hold your head high as you receive your helmet of salvation and advance the cause of holiness with courage. Refuse to remove your helmet! What reason is there to give up when the victory of our God has already been assured?
______________________Though I walk in the midst of trouble,
_________________________you preserve my life;
______________________you stretch out your hand against
_________________________the wrath of my enemies,
_________________________and your right hand delivers me.
______________________The LORD will fulfill his purpose for me;
_________________________your steadfast love, O LORD, endures forever.
_________________________Do not forsake the work of your hands. (Psa 138.7-8)
(Boot Camp: Equipping Men with Integrity for Spiritual Warfare, pg. 226-227)
Other posts in this series on the armor of God: