Excerpted from Chapter 13 of Boot Camp: Equipping Men with Integrity for Spiritual Warfare: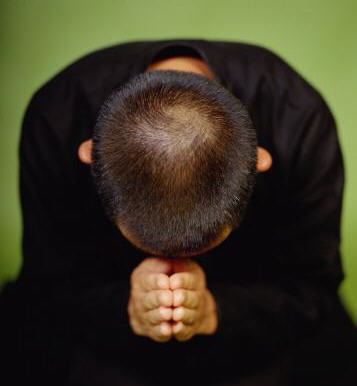 The Spirit's instructions concerning the armor of God conclude with the expectation that disciples of Christ would be "praying at all times in the Spirit, with all prayer and supplication" (Eph 6.18). What better way to reinforce heaven's intentions in our minds and dedicate ourselves to the goal of serving as faithful soldiers than to ask our Father's help and blessing as we reflect on each piece of armor?
---
Father in heaven, hallowed be your name. May your sovereign rule extend into our hearts and lives. May your will be done in us and through us as it is in heaven. We thank you, Father, for the strength of your might that has been made available to us. We are unworthy even to address you as our Father. We have turned our backs on you in the past. We have rejected the message of your Messiah. But you have not forgotten or given up on us. Even when we were your enemies, you worked to provide a plan for our redemption. We thank you for the blessed privilege of calling on you as redeemed sons.
Blessed Father, we seek your help and blessing as we do our best to recognize the present conflict. Help us to realize the stakes. Grant us the wisdom to feel the weight of the struggle. Guide us in acknowledging our desperate need for your power and patience in our lives. Direct us as we strive to remember who we have been called to struggle against. Guard us from selfish deception that would tempt us to turn unnecessarily on other image-bearers. Lead us to clarity and focus so that you and you alone are glorified in all of our efforts.
Holy Father, we thank you for the belt of truth. We praise you as the Author of reality and the Rock of faithfulness. Send forth your light into our lives. Help us to acknowledge and joyfully respond to your direction. Use whatever you must to guide us to your holy mountain, to the pleasure of your presence. We pray for sanctification through your word and for strength as we strive to be men of truth in your service. Help us to wrap integrity around every aspect of our lives and allow your truth to bind every element of our existence together. We pray that you would help us to stay dressed for holy action, with minds prepared and hearts that are eagerly awaiting the return of your Son.
Righteous Father, we thank you for the breastplate of righteousness. We ask for your guidance as we wage war against sin in our mortal bodies. Help us to cultivate a holy hatred for abusing our members as instruments of unrighteousness. Lead us and be patient with us as we dedicate ourselves as soldiers who have been brought from death to life. Help us to discern your will, delight in your leading, and live as clear representations of your expectations. Guide us as we seek to clothe ourselves with humility. Mold us, Father, to your glory. Purge from our lives whatever you must by whatever means is necessary so that we might glorify you in honesty, uprightness, and integrity.
Merciful Father, we thank you for the shoes of readiness given by the gospel of peace. We magnify you as the great peacemaker in all of history. We praise you for the gift of your Son through whom we can come boldly to the throne of your grace. Help us, Father, to appreciate our freedom. May we avoid using it as an opportunity for the flesh. Guide us that we might be always ready for every good work. Shape us into peacemakers and proclaimers of your good news. Use us in the cause of overcoming evil with good.
Almighty Father, we thank you for the shield of faith. We glorify you for your word which continues to serve as the foundation of our faith. Help us to cling to the promise of victory in the faith that overcomes the world. Lead us not into temptation, but deliver us from evil. Guard us as we endure the assaults of the evil one. Establish us in steadfastness of faith. In all circumstances, empower us to carry the shield of absolute trust.
Gracious Father, we thank you for the helmet of salvation. We exalt you for your amazing grace. We praise you for the assurance of our relationship with you. We ask for your help as we fight against the urges to submit once again to our former yokes of slavery. Preserve us, Father, deliver us with your mighty right hand. Fulfill your purposes for us and in us. Do not forsake the work of your hands. May your steadfast love, O Lord, endure forever.
Finally, Most High Father, we thank you for the sword of the Spirit, the revelation of your mind and will. May we always appreciate your providence which has made your revelation so freely available. We stand in awe of its living power. Do whatever you must to keep us open to its teaching, sensitive to its reproof, honest with its correction, and receptive of its instructions so that we might be trained in righteousness. Bless our efforts to present ourselves to you as men approved, workers who do not need to be ashamed, rightly handling the sword of your Spirit.
We will follow you, Father, wherever you lead. Whom have we in heaven but you? There is nothing and no one on earth that we desire more than you. Our bodies and our hearts may fail, but you are the strength of our hearts and our refuge forever.
With all our hearts, souls, and minds, we pledge our allegiance to your Son and our King. Come, Lord Jesus! It is through him that we pray.
Amen.
(Boot Camp: Equipping Men with Integrity for Spiritual Warfare, pg. 229-231)
Other posts in this series on the armor of God: