Excerpted from Chapter 13 of Boot Camp: Equipping Men with Integrity for Spiritual Warfare: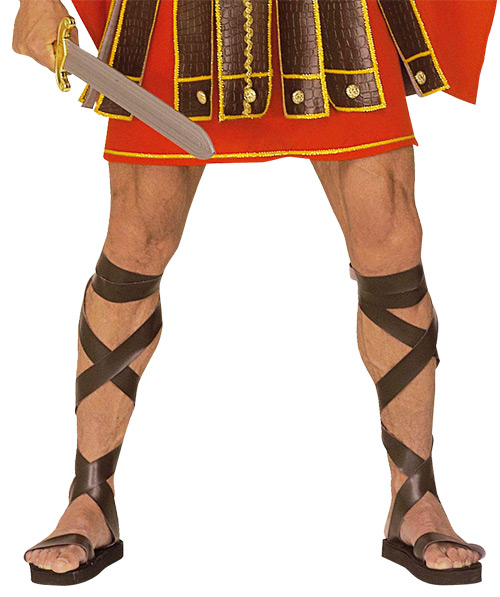 Shoes were an essential element of the Roman soldier's panoply.   Equipped with sharp metal spikes beneath, these battle-ready sandals enabled a soldier to walk over all sorts of sloping and slippery terrain quickly and effectively.   The Romans prided themselves on their ability to routinely move farther and faster than their enemies.   Opposing armies were frequently caught off guard, having deceived themselves into thinking that they had plenty of time to prepare an adequate defense.   In fact, more than one historian has noted that the Romans were so overwhelmingly successful as conquerors for so long at least partially because of their superior footwear.
The Spirit uses this familiar figure in his instructions for the soldier of God's kingdom.   "As shoes for your feet, having put on the readiness given by the gospel of peace" (Eph 6.15).   In contrast to the enemy who is caught barefooted and unaware, the soldier whose feet have been shod, or literally, underbound, is adequately prepared for battle.   So also, our own feet are to be prepared to defend and conquer.   Perhaps it would be tempting for a soldier who had endured a long, forced march to leave his belt and breastplate on, but slip his shoes off for a moment of relaxation.   Spiritually speaking, God urges us to be always ready.   Temptations are relentless.   Trials are fierce.   The work is neverending.   Entire lives can be forever altered in a moment.   If the soldier of the cross is unprepared to deal with the triumphs and tragedies of his earthly pilgrimage, he will be defeated.
The sense of readiness which is needed for the battles ahead will not come via our own ingenuity, intellect, or willpower.   It is "given by the gospel" or good news "of peace."   Remember the divine promise that we ran across as we entered God's armory.   "The peace of God, which surpasses all understanding, will guard your hearts and your minds in Christ Jesus."   As Christians, we have discovered peace with the holy God.   No longer must be run in fear or hide in shame from our Creator.   Through the sacrifice of our great King and high priest, we are sanctified children of God who are encouraged to "come boldly to the throne of grace, that we may obtain mercy and find grace to help in time of need" (Heb 4.16, NKJV).
Paul's message to the Ephesian Christians—and to us—is to stand at attention and remain steadfast!   Live as men who are grounded in the good news that you are at peace with God.   Rejoice in the blessed assurance of forgiveness.   Exult in the fulfillment which comes from obedience.   Confidently look forward to the guaranteed glorious triumph.   Our Father has pledged that he will never leave us nor forsake us.   "So we can confidently say, 'The Lord is my helper; I will not fear; what can man do to me?'" (Heb 13.6)
Such is the epitome of inner peace.   Though the battle may rage in any number of ways all around me, I have dedicated myself to following the Prince of Peace (Isa 9.6).   Though I am free from the shackles of sin, I am not free to run in whatever direction I choose.   I always remember that I am not my own.   As Paul reminded the Christians in Galatia, "You were called to freedom, brothers.   Only do not use your freedom as an opportunity for the flesh, but through love serve one another" (Gal 5.13).
As disciples of Jesus, we are to seek the preparation that comes through the gospel of peace.   We are to be "ready for every good work" (Tit 3.1).   It's one thing to read that commandment, but what does it look like, practically speaking?
Let love be genuine.   Abhor what is evil; hold fast to what is good.   Love one another with brotherly affection.   Outdo one another in showing honor.   Do not be slothful in zeal, be fervent in spirit, serve the Lord.   Rejoice in hope, be patient in tribulation, be constant in prayer.   Contribute to the needs of the saints and seek to show hospitality.

Bless those who persecute you; bless and do not curse them.   Rejoice with those who rejoice, weep with those who weep.   Live in harmony with one another.   Do not be haughty, but associate with the lowly.   Never be wise in your own sight.   Repay no one evil for evil, but give thought to do what is honorable in the sight of all.   If possible, so far as it depends on you, live peaceably with all.   Beloved, never avenge yourselves, but leave it to the wrath of God, for it is written, "Vengeance is mine, I will repay, says the Lord."   To the contrary, "if your enemy is hungry, feed him; if he is thirsty, give him something to drink; for by so doing you will heap burning coals on his head."   Do not be overcome by evil, but overcome evil with good. (Rom 12.9-21)
That commission is harder to fulfill than storming and securing the beaches of Normandy.   If you don't believe that, you need to read it again.   It takes preparation.   It requires willpower.   It demands that my love for the Lord and my fellow man exceed even my love for myself.   It's hard.   But it's the call of the gospel of peace.
The man of integrity is able to say, "I can rejoice in my Lord always.   My reasonableness can be shown to everyone.   I can be a peacemaker.   I can remember who the real Enemy is.   I can respond to anger with kindness.   I can endure insults with gentleness.   I can react to unjust criticism with mercy and forgiveness.   I can walk in peace.   My greatest desire is to see other people experience the peace of God in their own hearts.   I no longer have to be consumed by anxiousness.   I can find reasons for thanksgiving in the most difficult of circumstances.   In everything, by prayer and supplication, I can make my requests known to my God.   Why?   How?   The peace of God which surpasses all understanding is guarding my heart and my mind in Christ Jesus.   In the power of the glorified Son of God, I can stand firm.   Though outwardly the war may rage, inwardly the gospel of peace has securely grounded me in the truth and comfort of my Creator."
Can you honestly say those things as a man of integrity?   If not, you have yet to put on the right shoes.   You are unprepared for the battle ahead.
(Boot Camp: Equipping Men with Integrity for Spiritual Warfare, pg. 222-225)
Other posts in this series on the armor of God: