Excerpted from Chapter 13 of Boot Camp: Equipping Men with Integrity for Spiritual Warfare: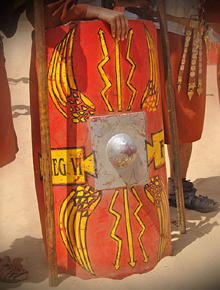 "In all circumstances take up the shield of faith, with which you can extinguish all the flaming darts of the evil one" (Eph 6.16).   There were two types of Roman shields in the ancient world.   One was small and round, designed especially for hand-to-hand combat.   The other was much larger, measuring four by two and a half feet, and described in terms more similar to a "door" than a shield.   The Spirit commissions the soldier of the cross to take up this latter shield in the defense of his soul.
This shield is solid, designed to protect the whole body.   Usually made of light wood, such shields were frequently lined with brass and covered with several folds of thick leather.   They could be drenched with water so that as enemy arrows dipped in pitch and set on fire collided with them, the points were blunted and the flames were extinguished.   An ancient soldier needed only to kneel down and hold his shield above him, and he would be protected from the flaming barrages of the opposition.
The Spirit tells us that the Christian's shield is forged in the fires of faith.   If truth is rock-solid, undeniable fact as revealed by the Creator, faith is unshakeable trust in the Revealer and his revelation.   "So faith comes from hearing, and hearing through the word of Christ" (Rom 10.17).   God's assurances of things hoped for form our shields.   The conviction of things not seen can quench the hottest flames (Heb 11.1).
From a distance we've studied many of the evil one's "flaming darts"—temptations to operate in selfishness, to give in to sexual immorality, idolatry, jealousy, or anger, to lose control of our tongues or to hide behind the masks of hypocrisy.   Our Adversary is intent upon our destruction.   His own defeat is already certain, but he will use whatever he can to cause fear in our hearts, doubt in our minds, worry during our nights, and rebellion throughout our days.   If he can drag us down to the pits of destruction along with him, he will.
But even when this great red dragon blows the hottest fire of his fiercest wrath in our direction, as we stand firm behind the shield of our faith, we have nothing to fear, "For everyone who has been born of God overcomes the world.   And this is the victory that has overcome the world—our faith.   Who is it that overcomes the world except the one who believes that Jesus is the Son of God?" (1 John 5.4-5).
Temptations will continue to come.   Trials will continue to arise.   Just because you hold the shield of faith in your hands does not mean that the dragon will give up in his efforts.   If anything, his attention is enhanced and his hatred is all the more incensed by those who have been washed in the blood of the Lamb.   Like a prowling, roaring lion he continues to seek those whom he can devour.   But you can "resist him, firm in your faith, knowing that the same kinds of suffering are being experienced by your brotherhood throughout the world" (1 Pet 5.8-9).
Remember, the devil cannot force you to lay down the shield of your faith.   As long as a soldier has his shield, he feels secure.   As long as a Christian has his faith, he will overcome.   God will deliver him, defend him, vindicate him, provide for him, and ultimately reward him for his faithfulness.   But as soon as you choose to lay your shield down, you invite your own devouring.
Don't lay it down!   "In all circumstances"—at home, at work, at school, at play, in busyness and in rest, in times of rejoicing and in times of sorrow—hold on to the shield of your faith.   You will find nothing else that can extinguish the Evil One's flaming arrows.
(Boot Camp: Equipping Men with Integrity for Spiritual Warfare, pg. 225-226)
Other posts in this series on the armor of God: