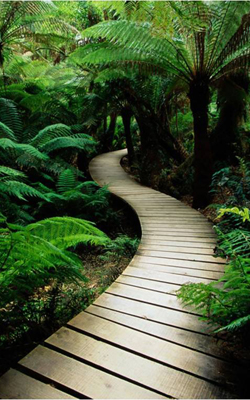 In Psalm 16:11, David wrote of God, "You make known to me the path of life; in your presence there is fullness of joy; at your right hand are pleasures forevermore." There is a path defined by God that leads to abundant life and eternal hope. But God's "path of life" is by no means the only path human beings can travel.
This sermon explores some of the well-worn paths that promise us fulfillment and satisfaction, but end in heartbreak and destruction (Mat 7:13-14). Paths lead where paths lead, regardless of who is traveling them.
When we discover that we have wandered into the far country of sin and rebellion against God and are suffering as slaves of unrighteousness, we don't just have "problems" that need to be "fixed." We have a direction that needs to be changed. The paths we travel and their trajectory in relationship to God will determine our ultimate destination.
Therefore, the wise walker adopts and lives by the motto of Psalm 119:105, "Your word is a lamp to my feet and a light to my path."
For more interactive outlines and mp3 recordings, be sure to visit the Sermons archive.
NOTE: Advertisements on the above player are randomly generated by the service provider and do not necessarily imply endorsement of the material advertised. Readers are always encouraged to apply the "Berean test" (Acts 17:11) to all that they see and hear.