Excerpted from Chapter 13 of Boot Camp: Equipping Men with Integrity for Spiritual Warfare: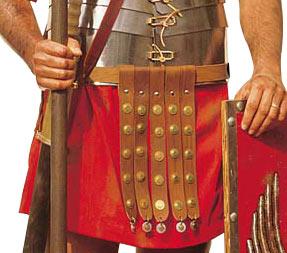 "Stand therefore, having fastened on the belt of truth" (Eph 6.14).   The typical Roman soldier of the first century wore a loose, flowing tunic that was cinched around the waist by a wide leather belt.   A soldier's belt served as the foundational piece of his entire panoply, holding his sword in place, supporting him in battle, and binding the rest of his armor together.   A leather apron hung from the belt to protect the soldier's abdomen and groin.   No soldier would ever willingly press the battle without this piece of armor.   To enter into conflict without a belt was to be unarmed, and therefore vulnerable.
So also, no soldier of the cross can successfully engage the present darkness without being supported by and tied together with truth—truth as defined by the Creator.   Truth serves as our Field Manual in the battle for the destiny of our souls.   Whenever we have lost our way, it is truth that leads us back to the slopes of spiritual Currahee.
__________Send out your light and your truth;
_______________let them guide me.
__________Let them lead me to your holy mountain,
_______________to the place where you live. (Psa 43.3, NLT)
What is truth?   Truth is reality as revealed by the God who made us.   Truth is irrefutable and irreproachable consecrated fact.   It is the truth of Jesus that makes us free to fight in the first place (John 8.32).   Truth is powerful.   It is solid and impenetrable.   "Sanctify them in the truth," was Jesus' prayer for his disciples.   "Your word is truth" (John 17.17).
Truth is what ties all of the aspects of spiritual success together.   Like the soldier's belt, it is the foundational piece of our armor.   God has fashioned, defined, and unveiled truth; our responsibility is to recognize it and fasten it around ourselves so that we might always be reminded to act, talk, and live as men of truth.
Speaking the truth in love, we are to grow up in every way into him who is the head, into Christ. (Eph 4.15)

Having put away falsehood, let each one of you speak the truth with his neighbor, for we are members one of another. (Eph 4.25)

Let no one deceive you with empty words, for because of these things the wrath of God comes upon the sons of disobedience. (Eph 5.6)

Walk as children of light (for the fruit of light is found in all that is good and right and true), and try to discern what is pleasing to the Lord.   Take no part in the unfruitful works of darkness, but instead expose them. (Eph 5.8-11)
The King James Version of the Scriptures translates the Spirit's instructions in Ephesians 6.14 as "having your loins girt about with truth."   Historically, such literally had to do with protecting the pelvic region.   To "gird the loins" during the Roman Era meant to draw-up and tie the lower garments between one's legs in order to increase mobility and agility.   It prevented the loose ends of the tunic from becoming snagged on something or entangled with one's feet.   As a soldier, anything that would prevent stumbling or falling down completely was worth the effort.
With those cultural notes in mind, the Spirit's timeless message is plain.   Make the effort now to tie up any loose ends that could cause you to stumble or fall in the daily spiritual battle!   Be sharp, alert, and ready to respond to temptation with mobility and agility.   As Peter instructed, "gird up the loins of your mind" (1 Pet 1.13, KJV).   Literally, prepare your mind for action.
Think about it.   When and where does all sin begin?   Is it when a sinful thought or image first enters our minds, or when we choose to continue thinking on, fantasizing about, and entertaining the sin?   The answer lies with the difference between temptation and transgression.   Generally speaking, we have little, if any control over the temptations we run across on the battlefield.   But we are in complete control of our responses to temptation.   We can choose to indulge the sinful passions of the flesh, or we can redirect our minds to the revealed truth of God, just as our King demonstrated.   Think back to the devil's temptations of Jesus in the wilderness.
"If you are the Son of God, command these stones to become loaves of bread."   But he answered, "It is written…." (Matt 4.4)

"If you are the Son of God, throw yourself down." …Jesus said to him, "Again, it is written…." (Matt 4.6-7)

"All these (the kingdoms of the world and their glory) I will give you, if you fall down and worship me."   Then Jesus said to him, "Be gone, Satan!   For it is written…." (Matt 4.8-10)
Jesus' strategy isn't hard to pick out, is it?   The fiery darts of the wicked one were met and defeated with the words of truth.   The recorded instructions of God and a ready mind of compliance were Jesus' first line of defense.
Now those instructions have been passed on to you and me.   War is upon us whether we would risk it or not.   Temptations will come whether we seek them or not.   When they do, the only question is whether the Scriptures will have been wrapped around our hearts to the point that our knowledge of the Creator's intentions will shape our first responses.   Or, will we allow the tempter's seductions to lead us away from the ranks of the redeemed?   Satan cannot take God's truth away from you, but you can decide to remove it from your thinking.
"Stay dressed for action [literally, Let your loins stay girded] and keep your lamps burning, and be like men who are waiting for their master to come home from the wedding feast, so that they may open the door to him at once when he comes and knocks.   Blessed are those servants whom the master finds awake when he comes." (Luke 12.35-37)
Truth has been made available.   What a blessing that we can so freely hold it in our hands!   Our entire lives can be built upon its foundations.   But truth will aid us in the eternal conflict only when it is known.   We must study it.   We must meditate upon it.   We must constantly challenge and evaluable ourselves in its light.   We must candidly and transparently apply it.   The more time we spend in honest reflection on the truth, the better equipped we will be to fight the battles ahead.
"We do not want you to be uninformed, brothers" (1 Thes 4.13), because being uninformed can cost us everything.   At the dawn of every day, prepare yourself to guard and defend the most vulnerable areas of your life.   Don't wait for the Enemy's strike in order to prepare for battle.   Surround yourself, wrap your mind in God's truth while there is still time!
(Boot Camp: Equipping Men with Integrity for Spiritual Warfare, pg. 217-220)
Other posts in this series on the armor of God: