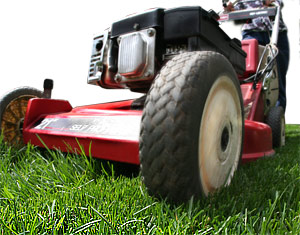 My 2-year-old daughter is terrified, absolutely terrified of lawnmowers. She doesn't want to be within sight of one. She doesn't even like the sound of a running lawnmower from somewhere else in the neighborhood.
Yesterday, our girls were playing in the backyard, and everything was right with the world—sunshine, hot weather, a Slip 'n Slide—until I came around the corner with the lawnmower. Emma immediately squealed, waddled into the house, and didn't reemerge until the lawnmower was back in the garage. I just shook my head and went on with my monotonous mowing.
But then I tried to put myself in her tiny shoes. The handle of the lawnmower is taller than Emma. Its roar just might be the loudest noise she's ever heard. And here's the key—she has no idea that I am the guiding force behind the mower. In her 2-year-old mind (as far as I can tell), the lawnmower has a mind of its own. It's unpredictable. It's dangerous. She has yet to learn that the mower moves only when her father makes it move.
Aren't we the same way as adults? How frequently we forget that in the darkest, scariest, most threatening moments of life, we—our circumstances, well-being, and ultimate outcome—are under the guiding hand of our heavenly Father!
Count it all joy, my brothers, when you meet trials of various kinds, for you know that the testing of your faith produces steadfastness. And let steadfastness have its full effect, that you may be perfect and complete, lacking in nothing. (James 1:2-4)
Temptations are everywhere. They are strong, alluring, and hard to resist. But listen to God's book:
No temptation has overtaken you that is not common to man. God is faithful, and he will not let you be tempted beyond your ability, but with the temptation he will also provide the way of escape, that you may be able to endure it. (1 Cor 10:13)
Cancer. Hurricanes. Persecution. Floods. Divorce. Famine. Miscarriages. Are they daunting? Yes. Can they lead to despair? Most certainly. But in the grand scheme of the universe, are they comparable to runaway lawnmowers? Is God desperately trying to accomplish his purposes while heartlessly neglecting his children? Hardly.
We know that for those who love God all things work together for good, for those who are called according to his purpose. (Rom 8:28)
There is a loving, guiding, wise, powerful influence behind this world. Yes, there are terrible hardships and unspeakable heartaches. But our Father reigns supreme. Not one tear falls that he does not notice (Psa 56:8). And when we remember that truth and anchor ourselves to it, there is nothing that can separate us from his love.
Who shall separate us from the love of Christ? Shall tribulation, or distress, or persecution, or famine, or nakedness, or danger, or sword? As it is written, "For your sake we are being killed all the day long; we are regarded as sheep to be slaughtered." No, in all these things we are more than conquerors through him who loved us. For I am sure that neither death nor life, nor angels nor rulers, nor things present nor things to come, nor powers, nor height nor depth, nor anything else in all creation, will be able to separate us from the love of God in Christ Jesus our Lord. (Rom 8:35-39)
Even death is subject to his will. It will mow each one of us down, but even death serves his purposes and will be abolished when he determines. For God's child who is informed with God's perspective, death will have no victory and very little sting (1 Cor 15:53-57).
One day, Emma will figure out that the lawnmower only moves under the guiding hand of her father. The mower will still roar, but she will realize that there is no reason to be afraid. She will come to trust the watchful eye and the tender care of her father, even in the midst of the terrifying.
I hope to live and die with that sort of perspective as well.