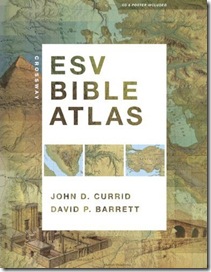 Todd Bolen on the new ESV Bible Atlas
(you can view 45 pages of the Atlas free online):
My first impression of this new atlas came from the weight of the box on my doorstep last night.   This atlas weighs even more than the ESV Study Bible, and it probably weighs more than any two atlases on my shelf.   What makes it so heavy?

175 full-color maps
70 photographs
3-D re-creations of biblical objects and sites
indexes
timelines
65,000 words of narrative description
a CD with searchable indexes and digital maps
a removable, 16.5 x 22-inch map of Israel

Another phenomenal resource of this atlas are the reconstruction drawings.   Some of these were published in the ESV Study Bible, and they are even more appealing on glossy paper.   They are also easier to find, as you do not have to page through large sections of the Bible to find what you're looking for.

Many readers here will be thrilled that the atlas includes a CD with the maps.   Many publishers never release the digital version, and those that do usually make you buy it separately (I have too many books that I've had to buy twice).   I love Crossway's commitment to being generous to its customers and I hope that it becomes the new standard.

Price: $35, with free shipping(!) from Amazon.   With the CD, removable map, and full-color imagery, the book is worth much more.

Conclusion: Highly recommended.
Read the full article here.