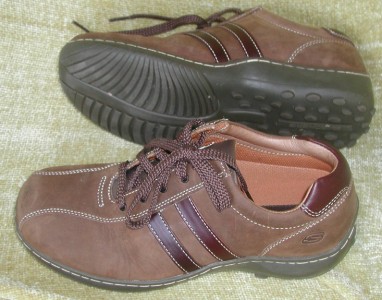 A bright yellow long sleeve dress shirt.   A matching yellow, orange and black tie.   Black dress slacks.   Black socks…
…and casual brown Sketcher shoes.
That was the combo I wore to an evening assembly at Laurel Canyon recently, but it certainly wasn't planned.   Let me explain.
We are a one-vehicle family.   Most all of the time, it's no problem at all, but every once in a while, Shelly will have to drop me off at the church building so that she can use our van throughout the day.   On the morning of my fashion faux pas, we were in a hurry to get out the door and I was still wearing very casual clothes.   No problem.   Shelly and the girls could come to the building with plenty of time to spare before our evening assembly and I could change before the crowd began to arrive.   I could spend time working in the office, she could have the van, no worries.
When the girls arrived at the building that evening, Shelly carried in the bright yellow shirt, the matching tie, the black slacks, the black socks…but no shoes.   We had gotten our communication wires crossed and I had no shoes, other than my casual brown Sketchers.   She was mortified. I had to practically tie her to a pew to keep her from going to Burlington Coat Factory down the street and buying a new pair of black shoes on a desperate whim.   It wasn't her fault, but she felt horrible.
Me?   I was just slightly self-conscious.   For quite a while, I stood between two rows of pews and greeted people with my feet hidden as deep under a pew as possible.   When sitting down and crossing my legs, I made sure a song book or a Bible was placed just right to provide the maximum cover.   I felt like my shoes were sticking out like the sorest of thumbs.   And you better believe, the first thing I did when I got home was immediately get out of those shoes.
But the whole episode got me thinking about Jesus' words in Revelation 3:15-18 to Christians in Laodicea:
"I know your works: you are neither cold nor hot.   Would that you were either cold or hot!   So, because you are lukewarm, and neither hot nor cold, I will spit you out of my mouth.   For you say, I am rich, I have prospered, and I need nothing, not realizing that you are wretched, pitiable, poor, blind, and naked.   I counsel you to buy from me gold refined by fire, so that you may be rich, and white garments so that you may clothe yourself and the shame of your nakedness may not be seen, and salve to anoint your eyes, so that you may see.'"
How often has my physical appearance in the sight of men and women been in fine order, but my spiritual condition in the sight of my holy Father been completely disregarded?   There is more to me, and more to you, than meets the human eye.   We may appear before others to have it all together—to be happy, successful, and satisfied.   When we don't, most of us are pretty good at hiding our deficiencies and our embarrassments.   But when it comes to our true spiritual condition, there is no hiding or glossing over.   We may very cleverly and hypocritically wear masks to fool the people around us, but in the eyes of the God who sees the condition of our hearts with perfect clarity, it is all too easy to be found wretched, pitiable, poor, blind, and naked.
What can be done to address this eternally serious problem that each of us brings on ourselves?   Our spiritual robes must be washed and our spiritual nakedness must be effectively covered.   In Revelation 7:13-14, John details from his heavenly vision:
Then one of the elders addressed me, saying, "Who are these, clothed in white robes, and from where have they come?" I said to him, "Sir, you know." And he said to me, "These are the ones coming out of the great tribulation.   They have washed their robes and made them white in the blood of the Lamb."
There are sinful works of the flesh that terribly stain our spiritual garments.   Sexual immorality.   Impurity.   Sensuality.   Idolatry.   Sorcery.   Enmity.   Strife.   Jealousy.   Fits of anger.   Rivalries.   Dissensions.   Divisions.   Envy.   Drunkenness.   Orgies.   Things like these that will keep us from inheriting the kingdom of God (Galatians 5:19-21).   But those stains can be washed away and made white with the blood of the Lamb of God.
For in Christ Jesus you are all sons of God through faith.   For as many of you as were baptized into Christ have put on Christ. There is neither Jew nor Greek, there is neither slave nor free, there is no male and female, for you are all one in Christ Jesus.   And if you are Christ's, then you are Abraham's offspring, heirs according to promise (Galatians 3:26-29).
Maybe you've committed your own fashion faux pas in the past and dealt with the self-consciousness or shame that resulted.   Realize that whatever embarrasses us in this life doesn't hold a candle to the shame we ought to feel because of our spiritual nakedness and the self-caused stains of our sin.   The day is coming when God will bring every deed into judgment, with every secret thing, whether good or evil (Ecclesiastes 12:14).   But on that day, you can stand before him unashamed because you put on Christ, you washed your robe, and you made it white in the blood of God's Lamb.   Until then,
Blessed are those who wash their robes, so that they may have the right to the tree of life and that they may enter the city by the gates.   Outside are the dogs and sorcerers and the sexually immoral and murderers and idolaters, and everyone who loves and practices falsehood (Revelation 22:14-15).