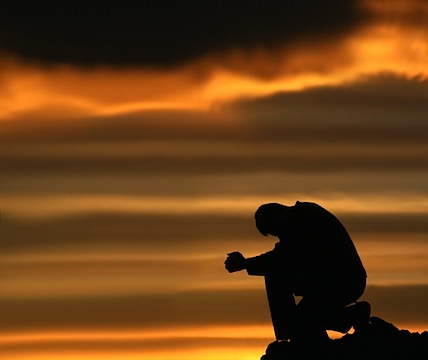 In Psalm 62:1-2, David wrote:
For God alone my soul waits in silence; from him comes my salvation.   He only is my rock and my salvation, my fortress; I shall not be greatly shaken.
My encouragement for you is to make this week all about Psalm 62:1.   Memorize it.   Write it on some Post-It notes and stick them in strategic places.   Recite it several times each day.   Use it as fertilizer for your prayers.
"For God alone" — remember this week that in him you live and move and have your being.   He created you.   He sustains you.   He upholds your universe by the word of his power.   Heaven is his throne and the earth is his footstool.   As the heavens are higher than the earth, so are his ways higher than your ways and his thoughts than your thoughts.   But he desires a personal, intimate relationship with you.   He invites you to taste and see that he is good.   He deserves and demands your undivided attention and allegiance.
"My soul" — you are more than a body.   There is a part of you created in the very image of God.   This week is full of physical responsibilities: work, chores, projects, progress.   But don't neglect your soul!   The day will come when the dust returns to the earth as it was, and your spirit will return to God who gave it.   The fool wastes his or her life by focusing on nothing more than the vanities of the temporary.   How frightening to hear from God on that final day, "'Fool!   This night your soul is required of you, and the things you have prepared, whose will they be?'   So is the one who lays up treasure for himself and is not rich toward God."
"Waits in silence" — ours is a society full of noise.   Dings on our smart phones.   Chimes on our computers.   Racket on our radios.   The clamor of commercials on our televisions.   If value is measured by scarcity, silence for most of us is indeed golden.   This week, make the time for intentional periods of silence.   Unplug.   Turn off.   Purge.   Isolate.   Wait.   Wait in silence.   Commune with your Father who sees in secret.   He has promised to meet you there and reward you.   Meditate on his testimonies.   Express your soul's longings for his salvation.   Ask for wisdom.   Seek his counsel.   Knock on the door of his throne room and come boldly before his throne of grace.
"For God alone my soul waits in silence; from him comes my salvation." Don't waste your week.   Use David's words in Psalm 62:1 to shape this week for your joy and for God's glory.