Torrent is one of those words we don't use very often, until we're searching for a word to describe the extreme.   Webster defines torrent as:
a stream of water flowing with great rapidity and violence.
a rushing, violent, or abundant and unceasing stream.
a violent downpour of rain.
a violent, tumultuous, or overwhelming flow.
One of the most compelling and frightening pictures circulating the web after the torrential weekend downpours across Tennessee and Kentucky is of Andrea Silva and Jamey Howell, two teenagers clinging to the top of Howell's jeep in Hendersonville, Tennessee.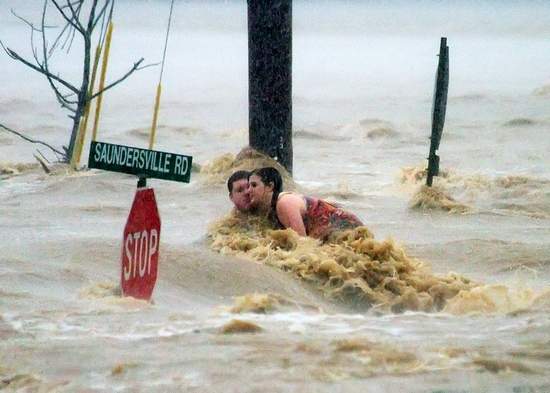 Thankfully, both were safely rescued.   I would imagine they have a new appreciation for the word torrent.
Torrent is used 12 times in the ESV translation of the Bible:
Judges 5:21 — the song of Deborah and Barak describes the defeat of the kings of Canaan.
2 Samuel 22:5-6 — David's song of deliverance from the hand of all his enemies.
Job 6:15-16 — Job describes his "brothers."
Job 14:18-19 — in his despair, Job brings his lament before God.
Job 22:23-25 — Eliphaz encourages Job to repent of his perceived wickedness.
Job 30:6 — Job describes the men who mock him.
Job 38:25-27 — one of God's challenging questions to Job.
Psalm 124:1-5 — David encourages Israel to recognize the source of their deliverance.
Jeremiah 47:2 — God warns his people of impending destruction.
Lamentations 2:18 — Jeremiah describes the intense grief of his people following the destruction of Jerusalem.
Ezekiel 38:22 — God's prophecy against Gog.
Of particular beauty and encouragement are the words of David in Psalm 18:1-6.   As pictures continue to circulate of the devastation in the Southeast and reports of daring rescues and heartbreaking loss continue to surface, may David's words continue to echo in your mind:
______I love you, O Lord, my strength.
______The Lord is my rock and my fortress and my deliverer,
____________my God, my rock, in whom I take refuge,
____________my shield, and the horn of my salvation, my stronghold.
______I call upon the Lord, who is worthy to be praised,
____________and I am saved from my enemies.
______The cords of death encompassed me;
____________the torrents of destruction assailed me;
______the cords of Sheol entangled me;
____________the snares of death confronted me.
______In my distress I called upon the Lord;
____________to my God I cried for help.
______From his temple he heard my voice,
____________and my cry to him reached his ears.