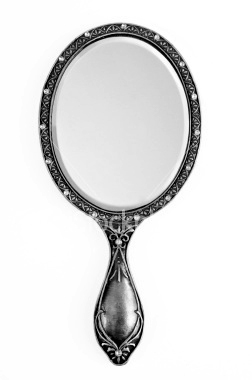 Fixing little girl hair before school is not one of my greatest talents.   I try.   Oh, how I try.   But it never comes close to hair done by my wife, Shelly.   I'll never forget what Chloe, our oldest daughter, said to Shelly over the phone a few years ago after one of (what I thought was) my better attempts: "Mom, you would not believe my hair.   You would be so embarrassed."
This morning was one of those mornings.   We were in a rush.   It was time for Chloe to leave for school.   Shelly was occupied.   The clock was ticking.   That left me.
Chloe has gotten to the point where she's pretty self-sufficient when it comes to her hair, but I stepped into the bathroom just to check.   She had done a great job with the front (better than I would have done a few years ago on my own) and thought she was good to go.   One problem—a massive tangle on the back of her head.   I saw it, but she couldn't.   I was determined to help, but she couldn't understand why.   I persisted, and she grew frustrated.   The whole thing could have quickly spun out of control were it not for a second mirror.   I held it up and showed her what she hadn't seen on her own.   We quickly worked together and rushed out the door.
The whole episode got me thinking on the way to drop her off at school.   That's been me.   That's been you.   We think we're in pretty good shape.   We can clearly spot where others have failed to measure up.   We don't need any help, and when someone suggests that we do, we react in less than flattering ways.
But all too often, there are things we don't even see.   We could use the help.   In fact, we need the help of others.   On our own—bullheadedly marching along with feelings of self-sufficiency and personal satisfaction—we actually look pretty foolish from behind.
Odds are, it won't be long before someone encourages you to look in the mirror.   Maybe it happened earlier today.   It could happen at some point this evening.   Live long enough, and it won't be long.   At least we should hope that it won't be, because we need it.
Be doers of the word, and not hearers only, deceiving yourselves.   For if anyone is a hearer of the word and not a doer, he is like a man who looks intently at his natural face in a mirror.   For he looks at himself and goes away and at once forgets what he was like.   But the one who looks into the perfect law, the law of liberty, and perseveres, being no hearer who forgets but a doer who acts, he will be blessed in his doing.   (James 1:22-25)
When that opportunity comes, I want to strive to be "quick to hear, slow to speak, slow to anger" (James 1:19).   I want to remember that most everyone who works up enough nerve to hold up the mirror for me is doing so because they actually care about me.   I want to take the time to thank them for their concern.   I want to remember to thank my heavenly Father for his patience and wisdom when I've acted as if I need neither.
When that opportunity comes, I want to be ready to respond in the right way.   How about you?