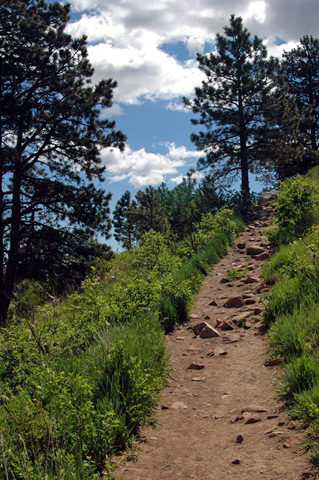 Sacred happiness. It rises above adversity.   It finds peace, even in the midst of pain.   It is sacred because it is not of this world.   It is not shaped by circumstances or dashed by difficulties.   Sacred happiness flows from an intimate connection with the sovereign Lord of the universe.
Would you like to enjoy sacred happiness today?   Consider Psalm 37, where David left four markers pointing in that direction.
"Trust in the LORD, and do good; dwell in the land and befriend faithfulness" (v. 3).
"Delight yourself in the LORD, and he will give you the desires of your heart" (v. 4).
"Commit your way to the LORD; trust in him, and he will act" (v. 5).
"Be still before the LORD and wait patiently for him" (v. 7).
The point is plain.   Don't live this day without the LORD!
The trail of life on this earth is windy and difficult.   There are sharp turns and treacherous cliffs and steep climbs.   But you don't have to travel this path alone.   Trust in God.   Delight in God.   Commit your way to God.   Be still and depend on God.
Allow all aspects of your day to be shaped by those four markers, and don't be surprised when you find that "the joy of the LORD is your strength" (Nehemiah 7:10).