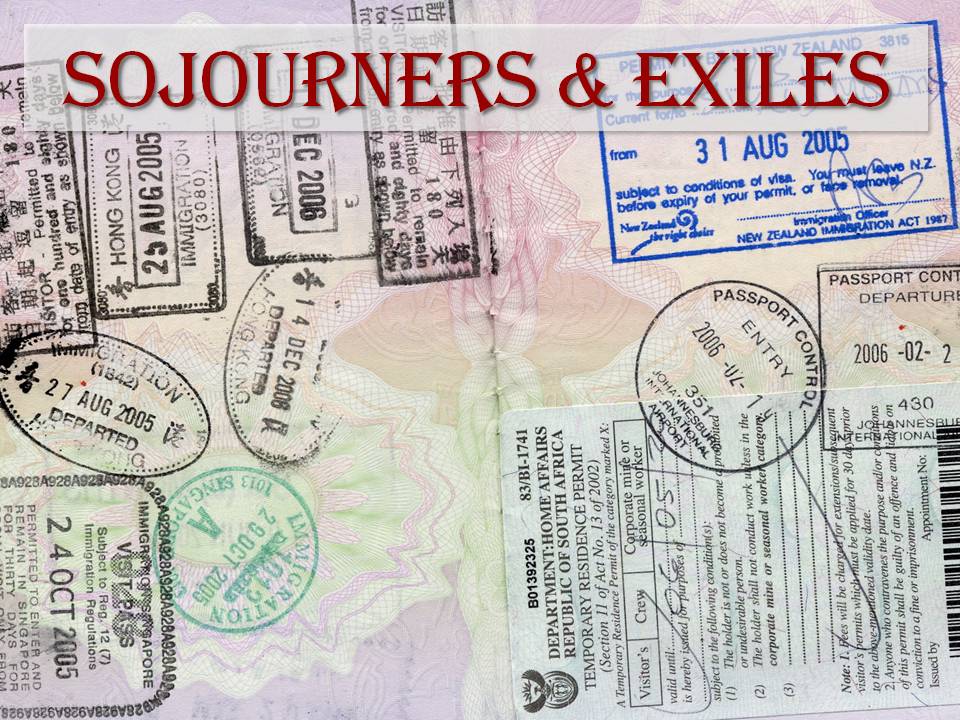 Sojourner (soh-jurn-er, noun)
someone on a temporary stay: he was a sojourner in Paris.
one who lives temporarily in a place.
someone who resides in a place for a brief period.
Exile (eg-zahyl, noun)
a person banished from his or her native land.
prolonged separation from one's country or home, as by force of circumstances: wartime exile.
anyone separated from his or her country or home voluntarily or by force of circumstances.
Beloved, I urge you as sojourners and exiles to abstain from the passions of the flesh, which wage war against your soul.   Keep your conduct among the Gentiles honorable, so that when they speak against you as evildoers, they may see your good deeds and glorify God on the day of visitation.   (1 Peter 2:11-12)
The Bible unashamedly and repeatedly emphasizes that disciples of Christ are only sojourners and exiles on this earth.     But what does that look like, practically speaking?   What are the implications for everyday life?   And why would anyone want to live like that anyway?   This sermon explores and reinforces the truth contained in Philippians 3:20-21:
But our citizenship is in heaven, and from it we await a Savior, the Lord Jesus Christ, who will transform our lowly body to be like his glorious body, by the power that enables him even to subject all things to himself.
Our citizenship is in heaven, and our King expects us to live like it.
SERMON AUDIO :
Click the PLAY button for streaming audio