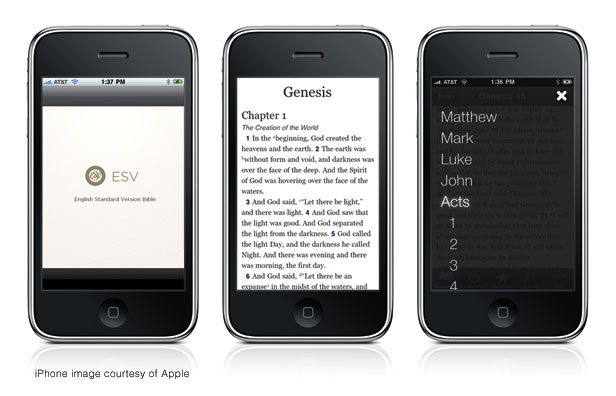 Crossway just announced the release of their new ESV Bible app.   For the first time, users can read the ESV Bible on their iPhone or iPod Touch, with or without an internet connection—for free.   Details from the app site:
Free.   The only free ESV Bible App that is available on your iPhone or iPod Touch, with or without an internet connection.
Use.   Offers a fantastic user experience.   Finding a verse is fast and easy.   Jump from a cross-reference or footnote back to your passage with seamless fluidity.
Read.   Scroll through the entire Bible in landscape or full screen modes and enlarge or shrink font sizes to fit your needs.     The ESV Bible App emulates the same unique typography users encounter with print versions of the ESV.
Search.   Ever had a verse on the tip of your tongue but can't remember where it's found?   Search for it with the Bible App's comprehensive concordance.
Write.   With the ability to record notes, you can capture your thoughts and observations in a sermon or personal Bible study.
Highlight.   Highlight verses by simply pressing on them.   Save them in your favorites for future reference.
Share.   Share verses with friends and family via email and Twitter.
Manage.   Add, delete, or reorder your verse favorites.   Save your own user-defined preferences.
I'm just beginning to tinker with it, but from what I've seen so far, it's my new favorite Bible app.   Definitely worth a free test-drive.
And for those of you using other mobile devices, the ESV blog assures, "we haven't forgotten about you.   We're working on it!"