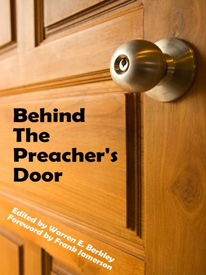 Behind The Preacher's Door, a new book edited by Warren Berkley, is now available.
This compilation—from twelve different writers—issues a challenging call to personal purity for all Christians, with a special focus on those who preach and teach God's Word.   Topics include:
Why This Book (Warren Berkley)
Foreword (Frank Jamerson)
The Preacher's Personal Devotion (Gary Henry)
The Preacher's Daily Discipline (Mark Roberts)
The Preacher's Ethics (Matt Allen)
The Preacher's Battle with Pornography (Jason Hardin)
The Preacher's Temptation to Commit Adultery (Edwin Crozier)
The Preacher's Money (David Banning)
The Preacher's Relationship with Difficult Brethren (Frank Walton)
The Preacher's Role in Unity in the Local Church (Russ Bowman)
The Preacher's Friends (Ken Weliever)
The Preacher's Toys: Technology's Impact on His Work (Edwin Crozier)
The Preacher as a Husband (Curtis Pope)
Final Thoughts, Warren Berkley
You can download a PDF sample here.
Some advance reviews:
Preaching is vital. It takes God's message, drives it through the personality of a man, and joins to it a motivation designed to cause people to make life changes—changes that relate to eternity. Preaching is not restricted to one kind of personality or one kind of talent, but its message can be disseminated by all who love the King and rejoice in His grace. Preaching is not a job. It is a way of living life—albeit a special way. It imposes on a person's life special responsibilities, all the while presenting its special opportunities as well. Since it is so distinctive a way of living life, it presents its own set of problems and difficulties. Warren Berkley's Behind The Preacher's Door is a book by preachers for preachers. In it there is a conglomerate of pertinent information designed to help preachers—young and old alike—live this life in a way that profits men and glorifies God. It is, at first glance, a book of warnings, warnings about various things that pose potential problems for preachers; but there is more to it than that. It has a positive aspect, too. It shows the gospel at work in the lives of men who are dedicated to the proposition that Jesus Christ is the King and that He deserves the best we have to offer. I like that. Behind The Preacher's Door deserves a serious read. It is a book for preventative maintenance as well as positive reinforcement. It deserves a place in the preacher's office—not on his bookshelf, mind you, but on his desk—that it may be a constant reminder of the potential pitfalls involved in this most noble of professions. I am pleased to recommend it.

(Dee Bowman, evangelist, Southside church of Christ, Pasadena, Texas)
Preaching the gospel is a God-given task to be undertaken by those men who have the knowledge and ability to communicate to the hearts of men the mind and will of God.

Preaching certainly needs to be biblically sound in its content and ably delivered.   But nothing is more critical to success in declaring this life-transforming message than the godly character of the one proclaiming it.   Preaching is not a profession but a function of being a disciple of Jesus.   The most important thing about those who preach is not that they are preachers but that they are devoted Christians.   That certainly is the ideal, but there is no myth so widely held as the idea that those who spend their lives preaching the gospel are somehow insulated from the temptations that assault other disciples.  To the contrary, it may be true to say that they are confronted by even more.   Behind The Preacher's Door is a book that faces this reality squarely and candidly and offers both warning and wise counsel in meeting and overcoming the challenges with which preachers struggle.   This is a book that has been long needed and we commend Warren Berkley and his writers for their diligent work in producing it.   Preachers young and old will read it with great profit.

(Paul Earnhart, evangelist, Douglass Hills church of Christ, Louisville, Kentucky)
Click here for more info on Behind The Preacher's Door.   And a personal word of thanks to Warren Berkley for allowing me to contribute to this important project.   May God be glorified and souls be strengthened by this effort.